William Weld Isn't a Softcore Libertarian—He Just Isn't a Libertarian At All
If Weld wants the Libertarian Party to nominate him for the vice presidency, he'll have to explain his positions on Iraq, guns, and eminent domain.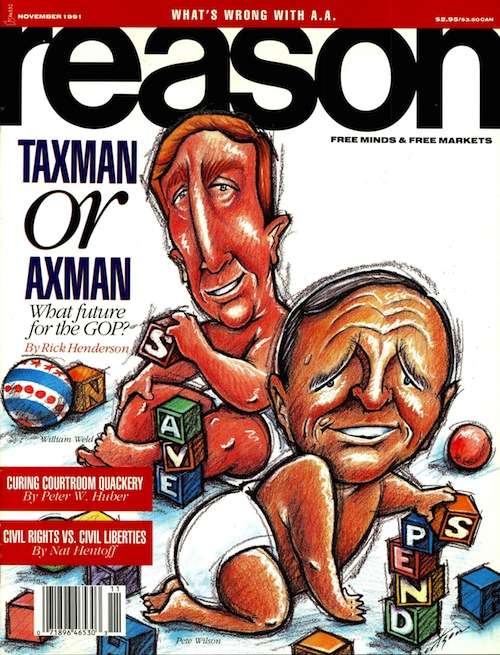 Yesterday brought word that Gary Johnson, widely seen as the frontrunner for the Libertarian Party's presidential nomination, wants former Massachusetts governor William Weld to be his running mate. I think Weld is a terrible choice, but the news did give me a little burst of nostalgia for those long-gone days of 1991, when the man briefly became the poster boy for libertarians who wanted to work within the GOP. Here was a Republican who actually seemed to be holding the line on spending, and what's more, he didn't hate gays! By the standards of the early '90s Republican Party, this was heady stuff indeed.
Then Weld let spending go up anyway, and these days it's a lot less unusual for an elected Republican to be gay-friendly. Meanwhile, Weld turned out to have a bunch of other positions up his sleeve. He had always been a law-and-order guy, and in 1993 that led him to endorse a ban on various "assault weapons" along with other state-level gun control measures. And in foreign policy—not a big deal for a governor, but kind of important in a presidential ticket—he showed his stripes in the 2004 election, when Weld was out of office but still came out for George W. Bush. Appearing on the Charlie Rose show 10 months after the invasion of Iraq, Weld acknowledged that he differed from the president on "some of the social issues" but declared that Bush had proven himself in the global sphere: "we face grave responsibilities, and I think he really has grown in office and risen to the international challenge."
Those are far from Weld's only anti-libertarian positions. But along with his support for the use of eminent domain in the Atlantic Yards land-grab, they're the ones most likely to keep the Libertarian Party faithful from nominating him at the end of the month. (Remember: Even if Gary Johnson gets the party's presidential nod, his VP pick still has to be approved in a separate vote.) Johnson is no one's idea of a hardcore libertarian, but his instincts do steer him in a libertarian direction most of the time. Weld is more of a moderate "socially liberal, fiscally conservative" type, with "fiscally conservative" defined by Massachusetts standards and with "socially liberal" defined in terms a Michael Bloomberg could embrace. That may well be better than the average Republican officeholder of 1991, but when it comes to the 2016 race…well, if I wanted to elect an Iraq hawk for gun control, I could vote for Hillary Clinton.