2014 Police Killings Changed the Way Americans View Race
The decisions not to charge the cops responsible caused a spike in concern about race.
Sometimes it's hard to tell how much an incident that dominates cable news is actually filtering down and making a mark on public awareness. The high-profile killings by police officers of Michael Brown (in Ferguson, Missouri) and Eric Garner (in Staten Island, New York) in 2014 sure seemed to capture the nation's attention—but did they actually change people's views on race in America?
Today at the American Association for Public Opinion Research (AAPOR) annual conference, a series of scholars presented research on just this question. It appears the answer is yes.
Jocelyn Kiley of the Pew Research Center used a slide showing the top half of this graphic: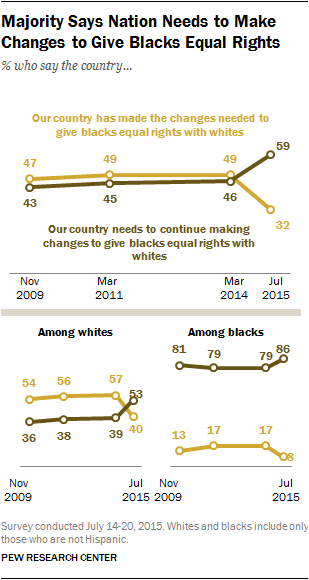 Note the dramatic uptick in people answering that the U.S. "needs to continue making changes to give blacks equal rights with whites." (You can read a lot more on this from Pew at this link.)
And here is a slide from Gallup demonstrating a similar phenomenon (sorry this one is so fuzzy):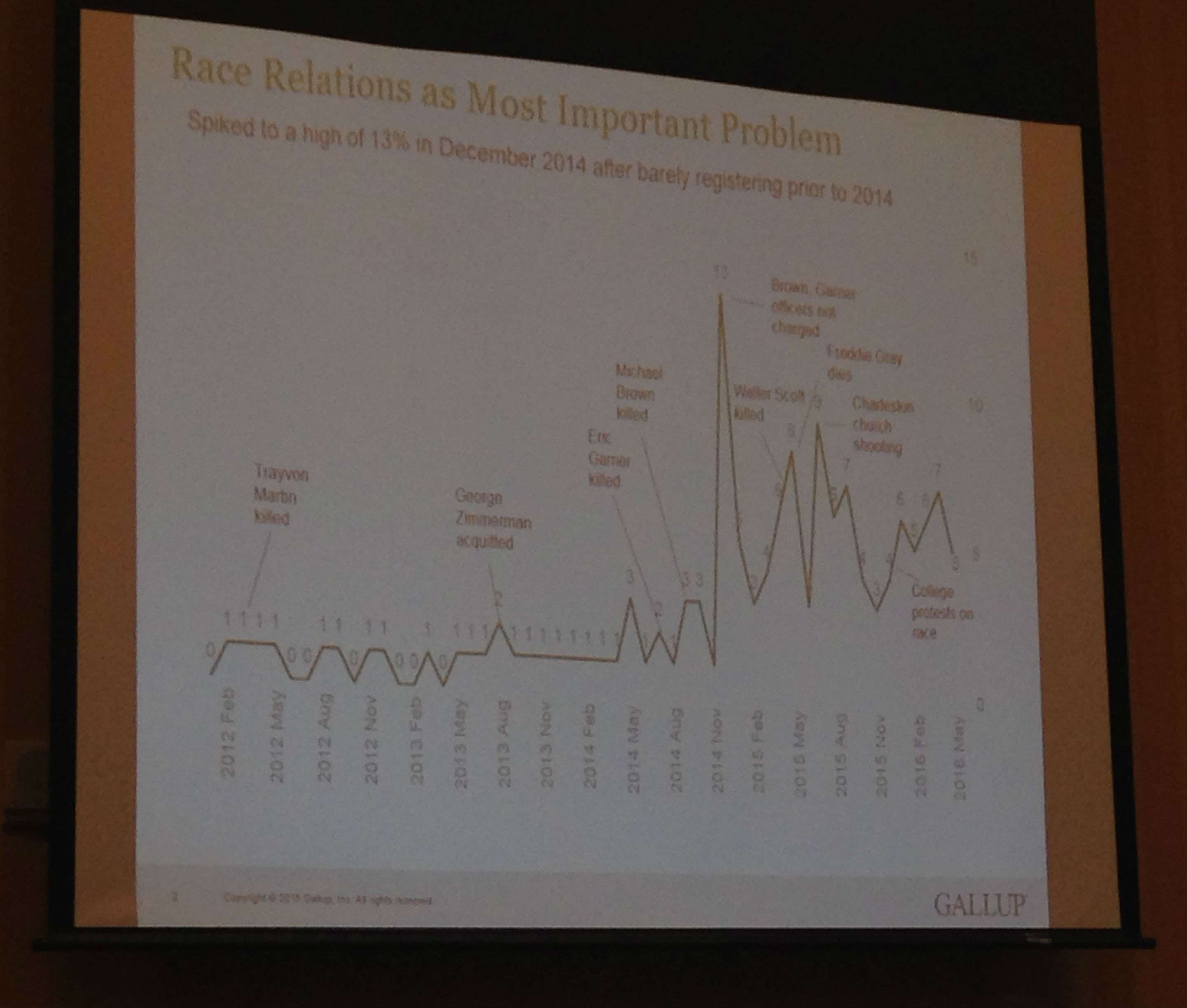 For years, the polling giant has been asking respondents what they think the most important problem facing the country is. The answer is often the economy (though "the government" has actually topped the list recently). Race has not generally been a prime concern in the 21st century—as the chart above shows, the number of people citing it as the biggest problem hovered between 0 and 2 percent from early 2012 through early 2014. It's hardly cracked the 5 percent mark since the early 1990s, in fact.
That changed in November 2014, right around the time officials announced separate decisions not to charge the cops responsible for the deaths of Brown and Garner. Subsequent spikes followed Walter Scott's on-camera killing by an officer in Charleston, South Carolina, in 2015, and the mass shooting in a black church in the same city later that year.
Though the number has fallen back down somewhat, it still remains significantly higher at 5–6 percent than it was even following George Zimmerman's acquittal for the killing of Trayvon Martin in Florida.
I didn't manage to get a snapshot of it during the presentation, but here is another chart making much the same point: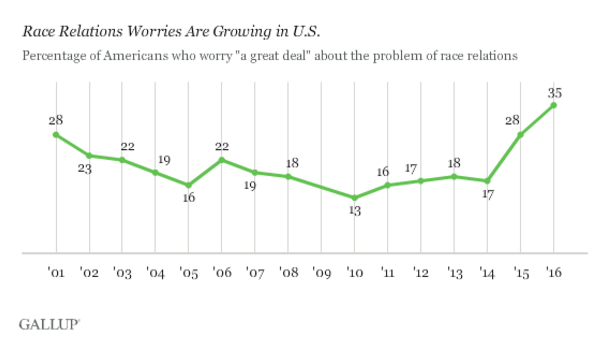 That said, taking a longer view shows that concern about racism and race relations is in America are still low today by historic comparison: