Gary Johnson on CNN: "On the Social Side of Bernie, I Get It"
L.P. presidential hopeful outreaches to the progressives, calls Trump on immigration "crazy."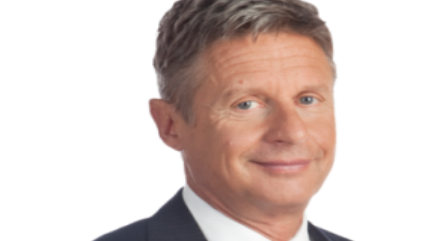 Libertarian Party (L.P.) presidential hopeful Gary Johnson (the former Republican governor of New Mexico, who brought the L.P. its highest-ever vote totals in 2012 with 1.27 million) wants Bernie Sanders fans to know, hey, if they don't have their guy to vote for in November, take a close look at him.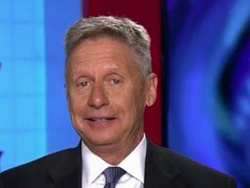 In a CNN website write-up of a Johnson interview with CNN"s Chris Cuomo today, the candidate said of Sanders:
"When it comes to economics, we come to a 'T' in the road," Johnson said. "But on the social side of Bernie, I get it."

Johnson said that according to the nonpartisan online political quiz 'iSideWith,' the candidate he most aligns with is Sanders.

Acknowledging his mutual appeal with Sanders to disaffected, socially liberal voters, Johnson called Sanders' social values "very libertarian."
Johnson called the Democrats' likely winner Hillary Clinton the "ultimate technocrat." He also slammed Donald Trump for "saying some things that I just think are ridiculous and would disqualify any other candidate" and leaned on his record as a border state Republican governor to say Trump's immigration fearmongering and wall-building dreams are "crazy."
Johnson stressed, as he does often, that being involved in the national presidential debates after all the parties have chosen their nominees is vital to the L.P. candidate doing well. And given the Commission on Presidential Debates rules—which Johnson is challenging now in an unresolved lawsuit—that requires getting over 15 percent in multiple polls.
So far, he's only appeared in two national polls I know of, Monmouth in March, which gave him 11 percent, and a Public Policy Polling one this week in which he gets 4 percent.
The CNN news clip linked above containing the writeup of his Cuomo interview, strangely, contains video of a completely separate Johnson CNN interview, this one with Michael Smerconish, in which Johnson is a little slow on the uptake to sum up the Libertarian platform (but then does get out the ol' socially liberal, fiscally conservative, all about individual freedom and liberty with a recognition that most of our foreign interventions cause unwanted unintended consequences).
"I gotta get in the polls," he says to Smerconish, and he does. He ends with a near-desperate sounding plea on that point.
Smerconish interviewed a bigwig at Quinnipiac polling and completely failed to get him to answer whether his poll would ever consider including Johnson, in a quite evasive way. (Hat tip to Sebastien Fauste for sending me the link in the previous sentence to Smerconish's interview with Quinnipiac's Peter Brown.)