Pennsylvania Poised to Become the 24th Medical Marijuana State
Gov. Tom Wolf plans to sign a bill that was overwhelmingly approved by the state legislature.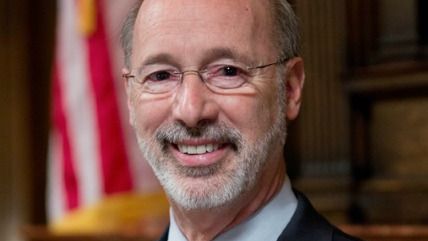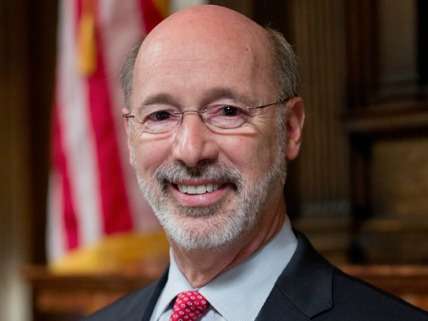 Pennsylvania is about to become the 24th state to allow medical use of marijuana. Gov. Tom Wolf plans to sign a medical marijuana bill that was approved by the state Senate on Tuesday and the state House of Representatives on Wednesday.
The bill, which passed the Senate by a vote of 42 to 7 and the House by a vote of 149 to 46, allows access to various nonsmokable forms of cannabis by patients with specified medical conditions who receive recommendations from doctors and register with the state. The doctors also have to register with the state and complete a four-hour course.
"I am proud and excited to sign this bill that will provide long overdue medical relief to patients and families who could benefit from this treatment," Wolf said. "I applaud members of both parties in the House and Senate who have come together to help patients who have run out of medical options and want to thank the thousands of advocates who have fought tirelessly for this cause."
S.B. 3, a.k.a. the Medical Marijuana Act, charges the Pennsylvania Department of Health with regulating up to 25 grower/processors and up to 50 dispenaries, each of which can have up to three locations, meaning there could be as many as 150 outlets. Dispensaries will provide cannabis in pills, ointments, oils, tinctures, liquids, and extracts suitable for vaporization. They will not initially sell whole-plant cannabis but could eventually if regulators decide it is medically appropriate. The bill also prohibits distribution of marijuana edibles, although patients will be allowed to mix extracts into food or beverages to make them easier to consume. The health department is required to begin publishing temporary regulations within six months, which suggests that dispensaries could begin operating next year. The temporary regulations will expire after two years, at which point the department will have written permanent regulations.
The qualifying conditions are cancer, HIV/AIDS, amyotrophic lateral sclerosis, Parkinson's disease, multiple sclerosis, epilepsy, inflammatory bowel disease, neuropathies, Huntington's disease, Crohn's disease, post-traumatic stress disorder, autism, intractable seizures, glaucoma, sickle cell anemia, "damage to the nervous tissue of the spinal cord with objective neurological indication of intractable spasticity," "severe chronic or intractable pain of neuropathic origin," and "severe chronic or intractable pain in which conventional therapeutic intervention and opiate therapy is contraindicated or ineffective." That list puts Pennsylvania somewhere between New Jersey, which has a much shorter list, and California, which allows medical use for any condition a doctor thinks might be alleviated by marijuana.
"Legal access to medical marijuana is going to benefit tens of thousands of seriously ill patients in Pennsylvania," said Becky Dansky, a legislative analyst at the Marijuana Policy Project. "For some, it's the best treatment option. For others, it's the only treatment option."