Topless Dancing and Alcohol Sales May Meet Again in Chicago
"Put a G-string on" and let the topless, drunken good times roll suggest some on the Chicago City Council.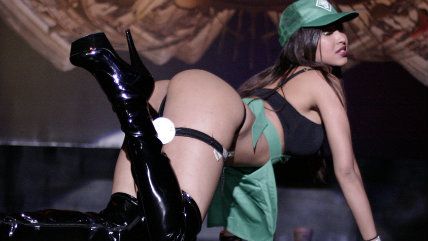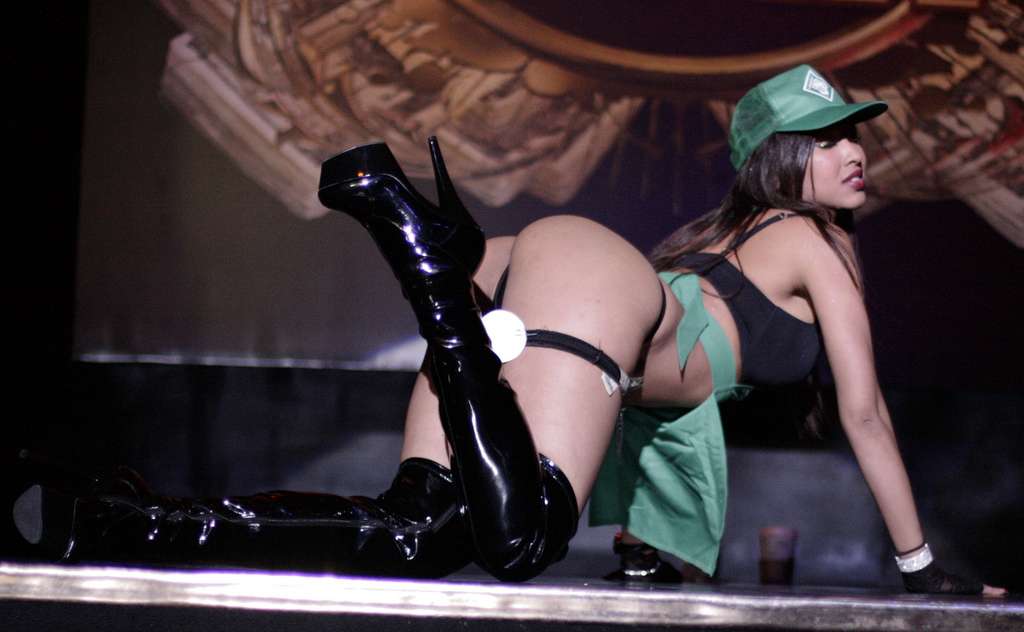 For years, the city of Chicago has prohibited businesses from mixing alcoholic beverage sales with nude dancing. Strip clubs within the Windy City limits have to choose between serving booze and featuring dancers that exhibit their "genitals, pubic hair, buttocks" or, if female, "any portion of the … breast below the areola," though clubs may permit patrons to bring their own drinks. But now some Chicago city lawmakers are trying to open topless establishments for alcohol business.
The idea was first endorsed by the Chicago City Council's Zoning Committee in 2014, according to the Chicago Tribune. But of course the dispensation doesn't come without strings attached: "If a would-be owner sought to open a new club with drinks and partial nudity, it could do so only if it obtained a cabaret license," a new designation which would require meeting "strict zoning codes" and "a special-use permit that would require community hearings."
The new measure, notably, drops the ban on booze sales at topless clubs yet doesn't up zoning or licensing requirements, though it somehow includes an arrangement whereby strip club owners will pay $400,000 to fund a domestic violence shelter and a sexual assault prevention program. This arrangement is not in the bill's text but is mentioned frequently by the bill's sponsor, Ald. Emma Mitts (Ward 37). The measure was approved by the Chicago City Council's Zoning Committee last week. But Mitts is now asking the committee chairman to temporarily hold the bill after learning that, as written, it actually allowed for the union of fully-nude stippers and alcohol sales.
"I didn't know the language had changed in it," said Mitts.
When it came out, I thought, 'Did I misread the ordinance or something?' I went back to look at it and it was nudity all the time. We [weren't] trying to make it a nudity ordinance. I was trying to regulate an industry … that we have out here to try to get a little revenue and try to help out some of our domestic violence shelters.
Still, Mitts hopes to go forward with her proposal after editing the language to only allow for topless dancing at clubs that serve alcohol. Or, as Mitts put it, "put a G-string on" and it will be OK.
Support is mixed among Mitts' colleagues and in the media. A Chicago Sun-Times editorial opined that the City Council "should walk away from this one," which "encourages the expansion of a type of entertainment that exploits women" and "heightens their chance of abuse by patrons." In a column that whimsically declares himself "a Milton Friedman, live-and-let-live kind of guy," Sun-Times writer Neil Steinberg came out against the proposed rule-change, insisting the status quo is "about safety, for both performers and customers." And Ald. Matthew J. O'Shea (Ward 19) condemned the measure as "a huge step backwards" in stemming "the tide of sexual violence in our city."
But supporters, including "powerful Southwest Side Ald. Edward Burke" (Ward 14) and Ald. Anthony Beale (9th Ward) say allowing establishments to serve beer and other alcoholic beverages could cut down on excessive drinking from patrons, who now simply show up already intoxicated or bring their own bottles of liquor, which encourages excessive consumption. If clubs controlled alcohol consumption, they say, bartenders could cut off patrons who appeared too drunk.
Beale and Mitts have also pushed back on the idea that combining alcohol and topless dancing will increase prostitution or sex trafficking. Of the "numerous" complaints Beale has received about a strip club in his district, none have related to prostitution, he told Chicagoist.