School Cop Who Body-Slammed 12-Year-Old Girl into Concrete Fired Over Paperwork
Joshua Kehm failed to submit incident report, and when he did, he called it an "accidental fall."
Turns out violently endangering a child through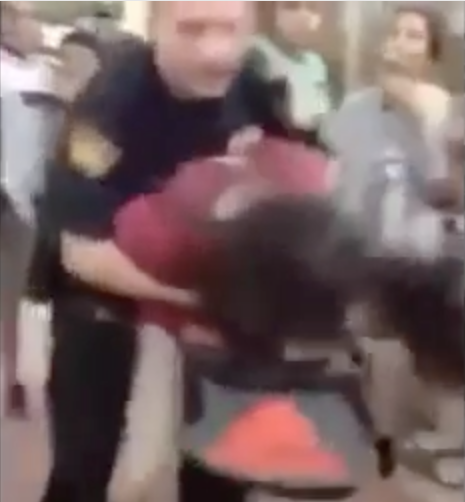 excessive force can get your fired in the US.
Joshua Kehm, the San Antonio district police officer working the beat at Rhodes Middle School, was fired by the San Antonio Independent School District (SAISD) on Monday, after having been placed on paid leave following an incident last month where he grabbed 12-year-old Janissa Valdez from behind, spun her around and slammed her onto a concrete walkway.
Kehm was trying to defuse what he had reason to believe was an imminent fight between Valdez and another girl, but his actions caused more damage than two sixth-grade girls would have likely been able to inflict on each other.
After witnessing video of her daughter being manhandled by an officer whose presence at school is meant to ensure student safety, Valdez's mother told a local TV news station, "You could actually hear her head hit the concrete. That's what hurt me the most…he didn't even seem like it bothered him. He still handcuffed her after she was unconscious."
SAISD Superintendent Pedro Martinez told MySA.com that Kehm was fired because he failed to immediately report this instance of use of force (as required), and once he did file his report, "it was not at all consistent with the video." According to Martinez, Kehm had indicated that Valdez ended up on the ground as a result of an "accidental fall."
Martinez said, "We understand that situations can sometimes escalate to the point of requiring a physical response; however, in this situation we believe that the extent of the response was absolutely unwarranted." The superintendent added that the investigation is ongoing, and that further discipline could be forthcoming regarding "possible inaction of school administrators."
Watch video of the incident below and read Reason's earlier coverage of the incident, which notes how post-Columbine overreactions have led to an over-policing of public schools, sometimes with disastrous results.