NYPD Cop Who Supervised Arrest of Postal Worker in Road Rage Incident Placed on 'Modified Duty'
Why would someone lose their job for acting unprofessionally and embarrassing their employer when they work for the government?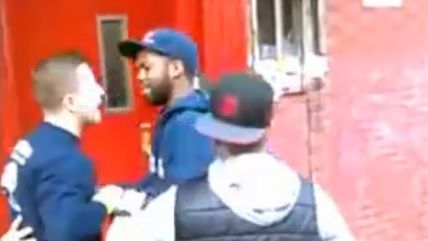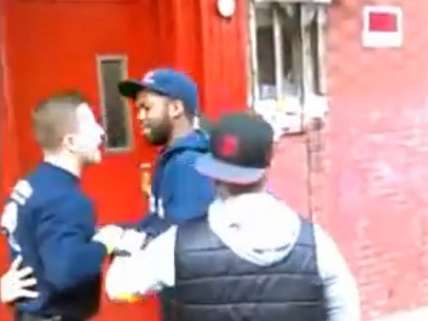 The lieutenant in charge when he and three other plainclothes New York City cops stopped to intimidate and arrest a postal worker who yelled at them for almost hitting his truck has had his badge and gun taken from him and place on "modified duty," according to the New York Daily News.
Lt. Luis Machado and three other cops were speeding through Brooklyn when they almost hit a postal truck. The driver, Glen Grays, shouted at the cops, who backed their car up to confront him after he yelled at them.
Video of the incident went viral, embarrassing the department, so the NYPD launched an internal affairs investigation:
The postal truck was left in the middle of the road.
Lt. Machado was placed on "modified duty," meaning he continues to be paid while stripped of his gun and badge and unable to do pretty much any police work.
The incident illustrates how important police reform is and why merely focusing on individual cops won't do much to deal with systemic police violence.
Law enforcement officials talk a lot about their "professionalism." The NYPD and police departments around the country ought to have "zero tolerance" for behavior that could indicate bigger problems, to get disturbed officers off the force before they kill. Cops who display an inability to control their emotions, a propensity to abuse their power, or a lack of situational awareness about the way their actions create risk (from unnecessary confrontations to leaving unnecessary hazards like a postal truck in the road), ought to lose their jobs.
Police unions and the contracts they have been able to negotiate with local governments thanks to privileges granted on the state and federal level make dealing with police violence in a proactive and effective way far more difficult. Police unions, by nature, produce rules that will help bad cops. Black Lives Matters' Campaign Zero identified "fair police union contracts" as one policy reform that could reduce police violence, and targeted particularly egregious provisions in police contracts with a separate website and data collection project, Checkthepolice.org.