Ham-Handed Arrest at Pediatric Clinic Highlights Official War on the Powerless
Forget that "war on cops." Unaffordable penalties, incompetent courts, and heavy-handed tactics are all evidence of an official assault on regular Americans.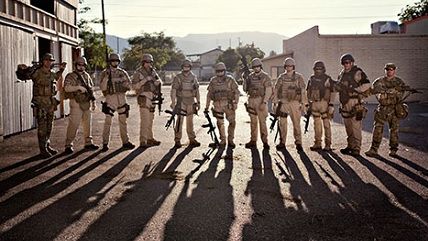 The cops raided my wife's pediatric practice looking for a fugitive last week.
Actually, let's put the word "fugitive" in quotes. The story is an eye-opening tale in itself. It's also a glimpse at how business as usual in courts and cop shops around the country screws with people's lives and alienates the public from those who are allegedly their protectors.
My wife, Dr. Wendy Tuccille, was on her way to the office in Cottonwood, Arizona, when her phone rang. Frantic staff called to tell her that the clinic's parking lot was full of cops, there to arrest one of her employees, C.H. (it's a small town so we'll stick with her initials), on an outstanding warrant.
When my wife arrived she found a gaggle of cops—12 to 15 she told me, some in battle jammies—in plain view at the rear corner of the building. The parking lot was full of police vehicles, in sight of families and children arriving to be seen and treated.
"Who's in charge here?" she asked, demanding that they move the Fallujah reenactment out of view.
"We were already in the process of moving the vehicles at this time," Cottonwood Detective Sergeant Tod Moore insisted in a statement to me. "It should be noted only 1 marked police unit was in the main parking lot area of the business." (The clinic's staff dispute that point.) Moore also claimed that only 10 officers were present. They included three detectives dressed in civilian clothes—and tactical vests—who arrived to initiate the arrest, joined by seven additional officers, including SWAT members, who transported another suspect with them on the trip to deliver the arrest warrant that the detectives hadn't brought along.
C.H.'s crime? It was an eight-year-old "amended charge of 28-1381A1 DUI to the Slightest Degree," according to Court Clerk and Associate Magistrate Anna M. Kirton. Kirton signed C.H.'s release order after my wife paid $1,300 to spare her employee 26 days in jail. More accurately, C.H. was arrested for making only partial payment of the fines and fees she'd been assessed, and for missing a court appointment that she never knew about.
"I was young and stupid," C.H. told me about the day in 2008 when her 21-year-old self was pulled over for a broken license plate light. She and her friends had open beer bottles in the car, and a marijuana pipe that C.H. claims wasn't hers, but which ended up in her purse. The original arrest, then, was for open containers and "drug paraphernalia," which was pled down to an even lesser charge.
After a night in jail, C.H. went to court, only to discover that there was no record of her arrest or charge to face, so she was sent home.
Years later, she was pulled over again and arrested on the original charge after the court got its paperwork in order. As Kirton told me, "On January 19, 2011, the Defendant entered into a plea with the State. She plead guilty to an amended charge of 28-1381A1 DUI to the Slightest Degree, (13-3415A was dismissed per the plea). She was sentenced to the mandatory minimum sentence required by law in the State of Arizona. Part of this sentence included fines and fees totaling $2005.00."
Actually, that was all of the sentence—provided she made her payments.
That's where things get a bit fuzzy. C.H. tells me she thought she paid in full. The court says otherwise. C.H. got married at that time, so things may have fallen through the cracks in the confusion. Court records show an official notice to C.H. returned because of a bad address on September 24, 2012 and a failure to appear recorded against her the next day. A warrant for her arrest was issued a week later.
The "bad address" in the court files is C.H.'s mother's house. It was the first place the police looked for her last week, so they have it accurately recorded somewhere as the place to find her. That house stopped being her official mailing address sometime last year, but it remains a convenient place to contact her—it was her mom who told police about C.H.'s job.
For whatever reason, the court notice of a command appearance never reached C.H., she remained unaware that the county thought she still owed $1,300, and last week a small army showed up to collect.
For all of its drama, the arrest was nothing special in itself—just part of a regular bureaucratic spring cleaning. In response to my (very pointed) query, Detective Sergeant Moore wrote, "a Verde Valley Wide Warrant Sweep was conducted by members of the Cottonwood Police Department to include SWAT Members, Yavapai County Sheriff's Office, PANT [Partners Against Narcotics Trafficking], GIITEM [Gang and Immigration Intelligence Team Enforcement Mission], Camp Verde Marshall's Office, Clarkdale Police Department, US Marshall's Office and HSI [Homeland Security Investigations]. The purpose of this sweep was to try and reduce the large number of outstanding warrants currently held by the numerous agencies listed."
But why the small army? (Neither the U.S. Marshals Service nor Homeland Security responded to queries by press time.)
"The teams were tasked to apprehend people who had a variety [of] offenses," Cottonwood Patrol Division Commander Jody Makuch said in an email. "While we cannot predict the behavior of the people who fail to meet their obligations, we do have to be prepared for a worst case scenario to protect the public and the officers."
They had a quota to meet, so they went with one-size-fits-all.
Similar operations joining federal, state, and local law enforcement agencies occur frequently around the country. In December, Indianapolis's Fox 59 breathlessly reported "a coordinated series of raids aimed at whittling away at the individuals and groups linked to moving drugs and enforcing their underground business with guns in the city." A story from Lancaster County, Pennsylvania, touts a sweep scooping up suspects wanted for illegal weapons dealing, aggravated assault, sex-offender crimes, DUI, theft, drug violations, and welfare/food stamps fraud. A sweep in Hawaii made arrests for "wanted for various crimes including drug offenses, sex offenses, robbery, theft, and probation violations."
The U.S. Marshals Service proudly advertises its cooperation in these efforts. "In fiscal year 2015, the Marshals apprehended more than 33,300 federal fugitives, clearing approximately 36,600 federal warrants. Working with authorities at the federal, state, and local levels, U.S. Marshals-led fugitive task forces arrested more than 66,300 state and local fugitives, clearing 82,557 state and local felony warrants."
The implication is that the sweeps primarily target serious criminals. Some dangerous types obviously are arrested—though it's apparent that at least a few of even the higher-profile "criminals" aren't so much predators as artifacts of drug prohibition.
But sometimes local agencies seem to feel less of a need to impress. In its press release about last week's sweep, the Yavapai County Sheriff's Office announced "a total of 65 warrants were targeted—55 misdemeanor and 10 felony cases. The effort resulted in 12 misdemeanor arrests and 3 felony arrests."
Were they at least desperate minor miscreants?
"In one case, the warrant subject was not home but his wife took the information. After notifying her husband, he went to court the following day, set up a payment plan for the fine and the warrant was quashed. The remaining warrant subjects were booked at the Camp Verde Detention Center."
The prisoner with whom C.H. shared her transport was six months pregnant and, she claimed, guilty of missing 20 hours of community service on a shoplifting charge. Her kids are patients at my wife's practice.
That's a lot of manpower to dedicate to minor cases that can often, apparently, be resolved by leaving a note—assuming the court can get the address right.
The official clusterfuck in C.H.'s case would simply be infuriating and damaging to the reputation of the cops and the courts if it was confined to small-town Arizona—but it's not. How common is C.H.'s experience?
"Citations are sometimes so deficient that court staff are unable to determine what the fine, or even charge, is supposed to be," notes a U.S. Department of Justice report that seemingly evokes C.H.'s experience after her initial arrest. "Evidence also shows that court staff have at times been unable to even find a person's case file."
Of court appearances such as the one that C.H. missed because the court sent a notice to a bad address, the same federal document notes, "Even setting aside the fact that people often receive inaccurate information about when they must appear in court, the in-person appearance requirement imposes particular difficulties on low-wage workers, single parents, and those with limited access to reliable transportation."
The Department of Justice report was issued last year in the wake of the Ferguson, Missouri, riots and scrutinized the conduct of police and courts in that unfortunate town. The report also takes officials to task for stiff fines for petty offenses larded with high and arbitrary fees.
About those fees…
The receipt for the payment that got C.H. sprung details a "base fine" charge of $163.05. On top of that the court added a "probation surcharge" of $6.52, other surcharges of $130.43, a $500.00 contribution to the "prison construction" fund, and another $500.00 for "public safety equipment." (I asked the cops if that's how they paid for SWAT's battle jammies, but didn't get an answer.) The total came to $1,300—a pretty hefty sum, to be paid immediately on pain of "26 days in jail starting today. No work or early release," according to the court record.
"That the court is at least in part responsible for causing cases to protract and result in technical violations has not prevented it from imposing significant penalties when those violations occur," the Ferguson report continued. "The court continues to routinely issue arrest warrants for missed appearances and missed payments."
Ferguson may have rated federal scrutiny because of an eruption of violence, but the abuses the report found are hardly confined to that town, or to the treatment of minorities, or to small-town Arizona—they're common throughout the United States.
"Of the 1,000 people per month who receive citations and are unable to pay the fines, most will face subsequent arrest and jail, even though the original offense may have been littering or a pedestrian signal," Gary Blasi of the UCLA School of Law, noted in 2007 of Los Angeles enforcement efforts targeting the homeless.
"Imposing 'small fines' for our (often objectively harmless in and of itself) behavior as we move through the world or through traffic is one of the most significant ways Americans interact with the state. Even if the fines don't balloon to bigger fines and eventual arrest warrants, such interactions open up Americans to violations of dignity (like being publicly jacked up and handcuffed), privacy (you are supposed to identify yourself and give the cops a chance to look into your background), and possibly liberty," wrote Reason's Brian Doherty in a 2014 piece on the legal minefield that petty law enforcement creates for all of us—but especially the poor and powerless.
"The costs of the criminal justice system in the United States are paid increasingly by the defendants and offenders. It's a practice that causes the poor to face harsher treatment than others who commit identical crimes and can afford to pay," NPR reported in 2014 after a year-long investigation. The result, as in C.H.'s case, is defendants facing a choice between often unpayable bills and jail time for even minor offenses.
And not all of those arrested on petty charges have employers willing to front the money to purchase their freedom. Police encounters and jail stays can result in the loss of jobs, disrupted families, and even a life confined to the shadows if missed payments and appearances result in fugitive status. "People face arrest and go underground to avoid police," the NPR report added. "But this means they cut themselves off from job opportunities, welfare benefits or other programs that could get them on their feet."
C.H. is eager to move past her experience with the legal system. She told me that she even apologized to the police who arrested her. "She stated she knew we had a job to do and she was sorry for being upset with us," Detective Sergeant Moore wrote in his statement.
But it's impossible to see how the inclusion of petty offenders in warrant sweeps that use over-the-top tactics improves public safety. They may be effective revenue generators, assuming the money collected outweighs the cost of jailing grass-smokers, beer-sippers, shoplifters, and jaywalkers who are delinquent on their fines. And they probably make for impressive press releases about arrested fugitives. But there's a lot of damage done in the process. That harm is done to those whose lives are disrupted, and to relations with the community.
"We'll always work to help children, and we'll do what the law requires," my wife notes in the wake of the arrest. "But the good relationship we had with the police and courts is gone."
Police and the courts don't appear especially concerned about the disdain of the people they "serve"—at least, it hasn't budged them so far. But the Ferguson report appeared in the midst of growing awareness of abusive courts, militarized cops, and abusive officials. Weak police insistence that a wave of public disgust constitutes a "war on cops" is unlikely to convince anybody who has ever been mugged by the justice system.
With confidence in the police at a 22-year low, government viewed as an "immediate threat" by half of Americans, and official misbehavior a YouTube staple, it's obvious that many Americans see cops, courts, and officialdom in general waging a war on them.