NYPD Officer Shoots Dog Three Seconds After He Slipped Through a Cracked Door
Dog's owner was reportedly screaming, "He's friendly!" as the officer drew his gun.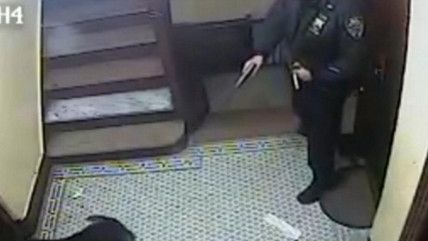 At about 5:30am on February 13, 2016,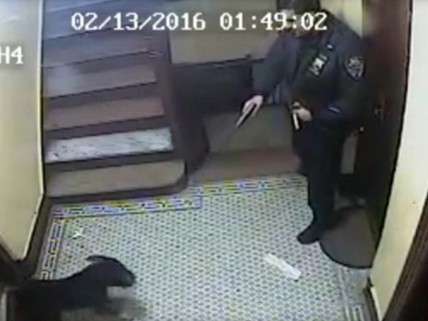 Yvonne Rosado was dancing with her 70-pound pitbull Spike when the dog became spooked by noises in the hallway. Rosado reportedly opened the front door of her apartment a crack to see what was going out outside, when Spike slid past her and toward NYPD Officer Ruben Cuesta standing in the hallway. 
As seen on a closed circuit video recording, Spike takes a few steps toward Cuesta, but three seconds after the dog crossed his front door, he had a bullet in his head. 
Cuesta and his partner were speaking to Rosado's neighbor about an individual who had reportedly been in the building in violation of an order or protection. Though that person was long gone, Cuesta was so spooked by the sight of a dog exiting a neighboring apartment, that he immediately drew his gun, retreated two steps down the stairwell and shot the dog.
Rosado claims she was screaming "He's friendly!" during the fateful seconds between the door opening and her dog's grisly death. Still in her underwear, Rosado followed Cuesta down the stairs and slapped him several times before she was restrained. No charges were filed against her. 
Rosado told the New York Daily News that an NYPD officer had also killed her cat six years ago. She alleges officers broke the feline's neck during a search of her mother's apartment. 
The NYPD, which has a policy that officers are only permitted to shoot animals "to defend themselves or others from threat of physical injury, or death" and that such force must only be used as a last result, says they are investigating the incident. The Daily News reports that the NYPD shot 18 animals in 2014 and as many as 36 in 2011. 
Click here to watch video of the incident (Warning: graphic and disturbing).