Cheerios Maker General Mills Knuckles Under to Vermont's Mandatory GMO Labeling
Just another stupid regulatory cost with no discernible benefits to people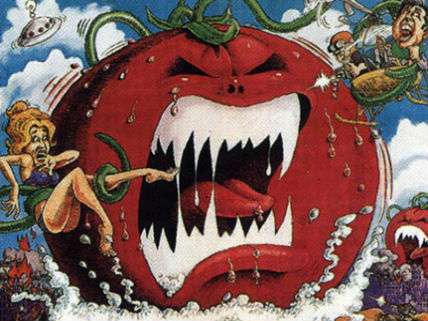 Attempts to pass legislation in Congress that would have set up a kind of voluntary GMO and non-GMO food labeling system nationally failed earlier this week. Democratic presidential hopeful and statist nightmare Sen. Bernie Sanders (I-Vt.) crowed in a press release:
I am pleased that Congress stood up to the demands of Monsanto and other multi-national food industry corporations and rejected this outrageous bill. Today's vote was a victory for the American people over corporate interests.

"Sen. Roberts' legislation violates the will of the people of Vermont and the United States who overwhelmingly believe that genetically modified food should be labeled. Republicans like to talk about states' rights, but now they are attempting to preempt the laws of Vermont and other states that seek to label GMOs."
As I have explained, Sanders' appeal to federal is thoroughly disingenuous. Sanders and other anti-GMO disinformationists know full well that most staple groceries are sold nationwide, so complying with Vermont's mandatory labeling would most likely force food companies to put labels on all of their products.
Today General Mills, the maker of Cheerios and other cereals announced that they would be labeling all of their products as containing GMOs. Recall that in 2014, General Mills announced with great fanfare that it was dropping biotech ingredients in its iconic Cheerios cereal. The move has apparently had no effect on sales. CEO Ken Powell told the Associated Press that the company was "not really seeing anything there that we can detect" in terms of a sales lift. He further opined that genetically modified organisms aren't really a concern for most customers.
As Reuters reports:
"Vermont state law requires us to start labeling certain grocery store food packages that contain GMO ingredients or face significant fines," General Mills said on its company blog.

"We can't label our products for only one state without significantly driving up costs for our consumers and we simply will not do that," the company added.
Activists intend for such labels to mislead consumers into thinking that perfectly safe food made using ingredients from modern biotech crops are somehow different from or dangerous. My suspicion is that as the GMO labels mandated by one tiny state proliferate, they will drop into the noisy information background and be largely ignored by most consumers. In other words, everybody will be forced to label, but no one will ultimately care. It's just another regulatory cost with no discernible benefits to people.