ACLU of Rhode Island Slams 'Sex Trafficking' Cops for Focusing on Consenting Adults
The chief result of the stings-which involved Homeland Security and the FBI-was the arrest of 14 sex workers and 14 men seeking sex from undercover cops.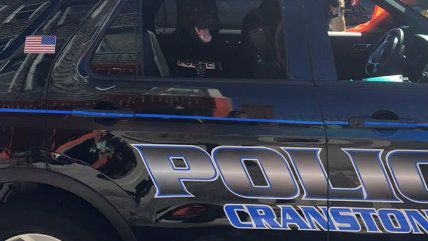 Props to the American Civil Liberties Union of Rhode Island (RIACLU), which is speaking out against old-fashioned prostitution stings disguised as "human trafficking busts." After 31 people were arrested in a recent sting operation around the city of Cranston, the RIACLU condemned the fact that "no fewer than eight law enforcement agencies were involved" in an operation that's chief result was the arrest of 14 people for "procuring sexual conduct for a fee" and 14 others on prostitution charges. In addition to Rhode Island police departments, the operation involved the U.S. Department of Homeland Security, the FBI, and the Rhode Island Human Trafficking Task Force.
"Law enforcement stings like this one often end up having little to do with trafficking, but a lot to do with embarrassing and penalizing consenting adults engaged in sexual conduct for a fee," said RIACLU Policy Associate Hillary Davis in a statement. "Conflating prostitution with trafficking does nothing to help the trafficking victims who remain ensnared while consenting adults are pursued and arrested."
"By humiliating and charging johns for seeking consensual sex" and giving people "arrest records in the name of 'helping' them," operations like these mainly serve to make sex workers' lives "more difficult and dangerous, driving sex work even deeper into the shadows," Davis added. "We emphatically reject the notion that the only way these individuals can be helped is if they are first put into handcuffs."
The Cranston operation, like so many across the country, involved police posing as either sex workers or potential clients on the Internet and arresting those they reeled in. The people charged with trying to pay for sex had their names and pictures publicized widely by police. In total, agents from the Cranston Police Department, Homeland Security, and the rest of the vice supergroup arrested 14 sex workers, 14 "johns," and three individuals on other charges, including pandering and an outstanding bench warrant.
The remaining arrest was a 21-year-old female, who was charged with both prostitution and "human trafficking," according to a police press release. There is no specific charge of "human trafficking" in the Rhode Island criminal code, but because the alleged victim was a 16-year-old, the specific charged would likely be "sex trafficking of a minor." Cranston police did not respond to my call for more information Wednesday. But because the 21-year-old was charged with prostitution herself, it's a safe bet she was offering sexual services alongside the teen, also a female, rather than "trafficking" her in any meaningful way. Patch Cranston reports that both the 21-year-old and the teen arrived together at the sting location, where police were pretending to be a potential client; there is no mention of coercion or force.
It's relatively common for barely-legal-themselves sex workers who work alongside teens to be charged under human trafficking statutes, since most states define sex trafficking a minor to include knowingly helping them sell sex in any way. There's no requirement for force, fraud, or coercion to come into play. Sex worker rights activists complain that this prevents young women from working in pairs for safety and actually increases the chances that vulnerable teens will wind up exploited by manipulative or violent traffickers.
The Cranston police chief told Patch that if even one young person was saved, any number of sex-worker or john arrests are worth it. But it's a false dichotomy. There's no reason why helping underage victims requires arresting adult sex workers who are just trying to make a living and men whose only criminal acts involve communicating with the Cranston police.