Trump Losing Millennials, Fox Adds Another Debate, Facebook and Google Improve Encryption: P.M. Links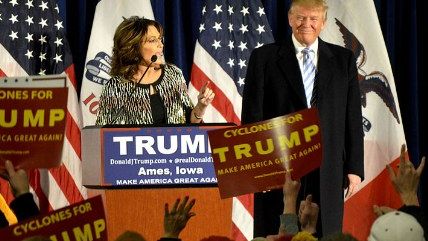 Credit: Alex Hanson

The latest polls show that when asked to choose between Donald Trump and Hillary Clinton, millennials will overwhelmingly choose Clinton. Two-thirds of Bernie Sanders' supporters say they'll support Clinton if she beats Sanders in the primaries.

Sarah Palin has canceled a planned appearance for Donald Trump because her husband, Todd, was seriously injured in a snowmobile accident. (UPDATE: She showed up after all.)
Fox News has added another Republican primary debate in a week, in Salt Lake City.
A white South Carolina state trooper has pleaded guilty to shooting an unarmed black driver seconds after a stop after the driver reached for his driver's license (which the trooper asked him for). The driver survived.
The White House has appointed transgender woman Raffi Freedman-Gurspan as its liaison on LGBT issues, the first transgender person to be given the role.
Facebook and Google are working to increase the encryption of its technology and services, despite government demands for easier access.
Russian President Vladimir Putin has ordered his troops to begin pulling out of Syria.
Follow us on Facebook and Twitter, and don't forget to sign up for Reason's daily updates for more content.