Reason Weekly Contest: Social Justice Training Materials
Last week's winners revealed.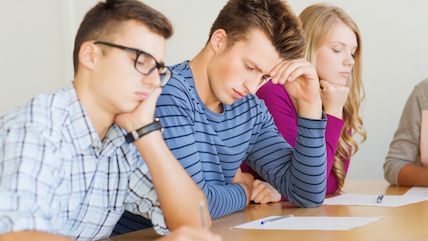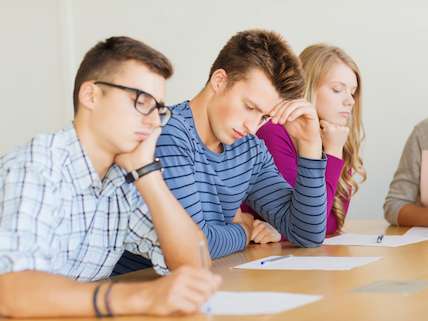 Welcome back to the Reason Weekly Contest! This week's question is:
Claremont College student Steven Glick was a tutor at his school's Writing Center until his right-leaning opinions were found to be at odds with the center's goal of  creating a "safe space." Before he finally resigned, he was told to read a series of social justice articles, including "Heteropatriarchy and the Three Pillars of White Supremacy." Come up with the name of another article he may have been told to read.
How to enter: Submissions should be e-mailed to contest@reason.com. Please include your name, city, and state. This week, kindly type "ARTICLE" in the subject line. Entries are due by 11 p.m. Eastern Time, Monday, March 7. Winners will appear on March 11. In the case of identical or similar entries, the first one received gets credit. First prize is a one-year digital subscription to Reason magazine, plus bragging rights. While we appreciate kibbitzing in the comments below, you must email your answer to enter the contest. Feel free to enter more than once, and good luck!
And now for the results of last week's contest: We asked you to come up with the name of the next Apple device to foil the government. You tapped:
THE WINNER:
iRaq: The Feds can't figure out how to get anything out of it. — Jay Stenmark, Madison, AL
SECOND PLACE:
The iHealthcare.gov — Alex Listvinsky
THIRD PLACE:
iPoke — Norm, New Park, PA
HONORABLE MENTIONS:
iLockUsuck
iDontKnow
iFYTW — Norm, New Park, PA
iShotTheSherrif and iDidNotShootTheDeputy: Police body cam devices
Sure to foil the government:  iBudget — Joyce Farrell, Wautoma, WI
The iPod Nono, which automatically refuses government requests to decrypt its data. — Charlie Mike
FourthAppmendment — Andrew Zavage, Philadelphia, PA
cAPPLEtalism iOS: the market alternative to getting backdoored by Big Brother. — Morgan A. Brown, Dallas, GA
uTried — Sean, Camarillo, CA
Siri knows the 4th Amendment. Shall I read it to you, flat foot? — Colin Blake, Boston, MA
iCan: 2 cans and a piece of string — James Quigley, San Rafael, CA
iBrick Decoy phone: 128 bit encryption, no data
iWantmylawyer Emergency Phone by Apple — Colin Blake, Boston, MA
Apple Pay – Feds are baffled that it requires you to have a positive balance before you can use it.
iFax – Most feds will be able to handle this, but will continue to tell Hillary that it's very complicated.
iWaswrong – Feds, especially elected ones, will never comprehend this product. — Tim Whalen, Manassas, VA
iWon't
iNever!
NixOn (encryption app) — Bob Magee, Stamford,  CT
AND FROM THE COMMENTS:
Fuck You, That's Wi-Fi
Apple TV. It already foils everyone, especially its users.
iForgotMyPassword
iExplode
iCoin — Apple's take on Bitcoin, seamlessly integrated with Apple Pay.
The Snowden Krokodil
iPleadThe5th
iCanteven
The iSIS
iCaramba