Monty Python's John Cleese Condemns Political Correctness on Campuses
'Then, as far as I'm concerned, you're living in 1984.'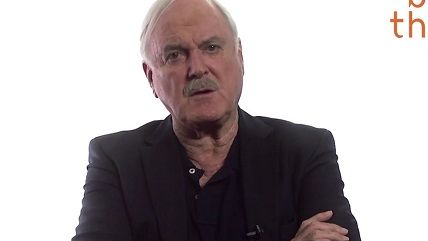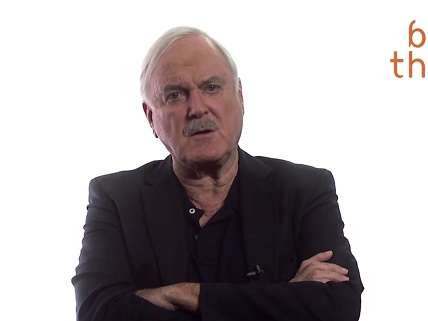 British actor John Cleese—best known for his roles in the Monty Python films—joins the list of celebrity comedians perturbed by the utter rejection of so-called offensive humor on college campuses. In a recent video for Big Think, Cleese lamented that political correctness was depriving society of a sense of proportion. "Then, as far as I'm concerned, you're living in 1984," he said.
A transcript of his remarks:
I've been warned recently, don't go to most university campuses because the political correctness has been taken from being a good idea—which is, let's not be mean particularly to people who are not able to look after themselves very well, that's a good idea—to the point where any kind of criticism of any individual or group can be labelled cruel. And the whole point about humor, the whole point about comedy—and believe you me, I've thought about it—is that all comedy is critical. Even if you make a very inclusive joke—like, How do you make God laugh? Tell him your plans—that's about the human condition, it's not excluding anyone, it's saying we all have all these plans that probably won't come and isn't it funny that we still believe they're going to happen. So that's a very inclusive joke, but it's still critical. All humor is critical. If we start saying, oh, we musn't criticize or offend them, then humor is gone, and with humor goes a sense of proportion, and then, as far as I'm concerned, you're living in 1984.
Cleese is no stranger to controversial comedy—Monty Python sketches frequently pilloried various political and religious traditions. If Life of Brian, for instance, were to be shown on a college campus today, it would not surprise me if it generated a protest.