Montana Commission on Political Practices Targets Ideological Opponents
Bad COPP.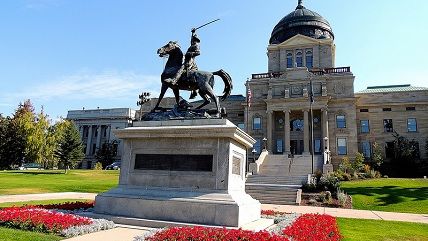 The road trip from the Colorado statehouse to the Capitol building in Montana is about 800 miles, but the psychological distance from a Denver meth-house to the office of Helena's Commissioner of Political Practices has to be greater than that.
And that's only the beginning of this bizarre story, and just the latest example of partisan public officials using government power to crush their political opponents.
In Washington, D.C., Lois Lerner, head of the tax-exempt organizations division of the Internal Revenue Service (IRS), allegedly slowed or killed the nonprofit applications of conservative and libertarian organizations. In Wisconsin, Kevin Kennedy, director of his state's political ethics organization and Lerner's longtime "professional friend," worked with a rogue Milwaukee district attorney to spy on, and seize the personal papers and equipment of, supporters of Gov. Scott Walker, a Republican. In Texas, the benign-sounding Texas Ethics Commission convened to determine whether a conservative nonprofit journalist is really a journalist and therefore deserving of First Amendment protections—or is an activist who does not.
In each case, the officials leading the charge are Democrats. And in each case, they invoke the language of campaign-finance reform and the specter of so-called "dark money"—donations to nonprofit organizations that Democrats allege have tipped the electoral scales rightward.
In Helena, the state's appointed Commissioner of Political Practices is using his Montana subpoena power and budget to punish conservative politicians and nonprofits. He alleges conservative nonprofits and candidates illegally coordinated their activities in 2010 campaigns.
One of his targets, former state Senate Majority Leader Art Wittich (R-Bozeman), will go to a jury trial in March.
Wittich says he's not only innocent, but will pull back the sheets on what he calls "blatant political thuggery" by a Democrat eager to take down Montana conservatives.
Wittich is about as conservative as a state official gets, leading the fight for education savings accounts, lower taxes, gun rights and reforming public-employee collective bargaining. He was also key to blocking Medicaid expansion under the Affordable Care Act from 2011 to 2015.
His nemesis is Jonathan Motl, the man whom Gov. Steve Bullock, a Democrat, appointed Commissioner of Political Practices in 2013. Inarguably liberal—he worked on campaign finance issues for Common Cause and Stand with Montanans and is a longtime ally of Ralph Nader—Motl nevertheless says he plays it straight.
"Motl defends his tenure as one spent impartially applying the Montana campaign practice laws he's known intimately for more than two decades," said a reporter for the alternative-weekly Missoula Independent.
In fact, the Commissioner of Political Practices website shows that Motl settles most political ethics complaints as low-level technical violations. He has chosen to litigate just 12 cases, all of them involving Republican candidates or conservatives who supported conservative candidates or causes. Of the nine targeted candidates, two settled out of court, and two others didn't contest the charges and were found guilty. Wittich is among the five whom Motl will take to trial.
While he says he can't discuss details, Motl tells Watchdog,org he's eager for the trial.
"Mr. Wittich will be very ably represented, and I think it's important that the two sides will be represented in court," he says. "This is an important issue for Montanans."
In his complaint against Wittich, Motl says he has documents discovered in a Denver meth lab that show the lawmaker is guilty of "consenting to receiving and coordinating with third-party corporate entities" during the 2010 election cycle. The complaint adds that, in failing to report the full value of printing his own campaign mailers, he failed to disclose a gift.
In a November filing, Motl went farther, accusing Wittich of receiving "secret and improper contributions" from people with ties to corporations. Motl called that evidence Wittich had committed a kind of thought-crime: he allegedly "pledged primary fealty to that corporate group of special interests rather than to the people of his district."
In his response, Wittich denies any coordination and says there's no evidence he coordinated with anyone. His own expert witness shows that Wittich may actually have overpaid for his campaign printing. He says he doesn't know where to begin on the pledging-of-fealty allegation. "That's just plain stupid," he says.
The commissioner's critics say he's clearly a partisan.
"Motl is engaged in the same type of abuse as his Wisconsin counterparts in the John Doe: Selective and abusive attacks on conservatives designed to smear and suppress political activity that he does not like," says Eric O'Keefe, director of the Wisconsin Club for Growth and, like Wittich, a target of political investigators.
Others note that Motl declined to litigate a very similar campaign-finance complaint against Bullock, the man who appointed him. That complaint, submitted by James Pennington of Billings, accuses then-candidate Bullock of coordinating with liberal groups and vendors during his 2012 election.
In language that Wittich could cite in his own defense in March, Motl said the claim against Bullock "while lacking in merit… is not frivolous as it raises an issue that deserves discussion and resolution for the benefit of Montanans." Motl noted that while candidate Bullock shared vendors and even former staff with the supposedly independent nonprofits supporting his gubernatorial campaign, such "common vendors" were not evidence of coordination. Coordination requires evidence of "the prior consent of a candidate." Lacking that, he wrote, he dismissed the complaint.
So far, despite his two-year investigation of Wittich's email, correspondence and phone records, Motl hasn't produced any evidence of such prior consent. That hasn't stopped him from using the press to trumpet his court battle with the conservative.
Montana and even national media have been almost invariably friendly to the COPP's allegations. They've often referred to the provenance of the documents in a rundown squat for meth users as additional evidence of the shadiness of the conservatives.
Only the Flathead Beacon newspaper in Kalispell asked the really interesting questions about that find. How did documents belonging to the Colorado-based nonprofit American Tradition Partnership—stolen from a car in a Denver-area shopping center—end up in a meth house? How did the homeless man who discovered them have the almost unmatched legal smarts to know the difference between trash and evidence that might prove violations of obscure campaign-finance law in another state? Why did he deliver the documents to a local attorney whose wife is a prominent Democrat and Colorado state senator? Why were those papers then shipped to Jim Murry, Montana's former COPP—who has referred to Wittich and other conservatives as "almost a right-wing terrorist group of sorts"? Why did a friendly judge determine the purloined documents had been "voluntarily provided to the commissioner's office"? Why did Murry make those documents available to reporters, including reporters from PBS's Frontline and ProPublica, for more than a year before the car's owner—an employee of the conservative nonprofit American Tradition Partners—was notified?
However they ended up in the COPP office, Motl, the political practices commissioner, says they are the smoking gun in his 12 prosecutions. He has amplified their importance by noting that Murry, his predecessor, alleged someone broke into the office to steal them. Though nothing was taken and there were no signs of forced entry, Motl told a local reporter the incident was "not that far from Watergate."
Right-wing terrorists? Watergate burglars? There's little wonder Wittich thinks he's the target of a witch hunt.
Wittich predicts he'll win his March court fight with Motl. But by then, he says, it won't really matter. He's contemplating not running for reelection to the legislature. In nearly three years, he says, he's spent more than $100,000 and countless hours defending himself. His work and home life are suffering.
By then, even victory in court may seem a small reward, Wittich says: "This process itself is the punishment."