Obama Seems to Favor Clinton as Successor, Censorious Professor Charged with Assault, Trial over Reckless Shooting by NYPD Officer Begins: P.M. Links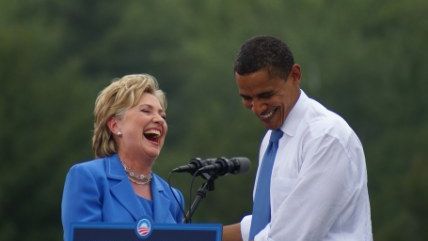 (marcn / photo on flickr)
Credit: marcn / photo on flickr

While President Barack Obama is declining to endorse a successor yet, he is kinda-sorta gesturing toward Hillary Clinton, who is running a campaign promising to pretty much extend all of Obama's policies.

There continues to be wintery weather in January for some reason.
The University of Missouri communications professor who infamously was captured on camera trying to physically censor journalists on campus has been charged with misdemeanor simple assault.
Maryland's legislature has overridden the governor's veto of a bill that offered modest civil police asset forfeiture reforms and a bill decriminalizing possession of objects used to smoke marijuana like bongs and papers (the state had previously turned possession of marijuana itself into a civil, not criminal violation).
A British explorer who was attempting the first unassisted solo crossing of Antarctica has died after 71 days, within 30 miles of achieving the goal.
Today the trial began for rookie New York Police Department Officer Peter Liang, who faces manslaughter and negligent homicide charges for recklessly opening fire in a public housing unit stairwell, killing Akai Gurley.
New at Reason:
Follow us on Facebook and Twitter, and don't forget to sign up for Reason's daily updates for more content.