Officer Doesn't Want to Testify in Freddie Gray Case, Powerball Jackpot Balloons, Manatee Status Under Review: P.M. Links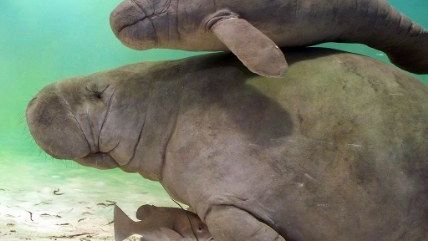 (psyberartist / photo on flickr)
Credit: psyberartist / photo on flickr

One of the police officers facing charges over Freddie Gray's death in Baltimore is appealing a judge's order to testify against two fellow officers.

Nobody won the Powerball jackpot Wednesday, so now it's up to $700 million, the biggest prize ever.
The New York Police Department has settled two lawsuits regarding the surveillance of Muslim residents. The agreement will result in a civilian representative to monitor police investigations that revolve around political or religious activities.
A police officer in Georgia may face charges for the shooting death last year of Anthony Hill, an unarmed, 27-year-old veteran who was struggling with mental health issues.
U.S. officials are considering whether to upgrade the status of Florida's manatees from "endangered" to "threatened." The Pacific Legal Foundation has been pushing for the change, which apparently should have happened years ago.
According to a leaked police report from Cologne, Germany, police were overwhelmed New Year's Eve trying to deal with calls over large groups of men, believed to be migrants from the Middle East or North Africa, assaulting women.
Alabama has joined Texas in suing the Obama administration over its plans for refugee resettlement.
Wall Street is having just a really bad week. I bet there will be a run on lottery tickets.
New at Reason
Don't Fear the Refugees
Americans are skeptical and afraid of allowing Middle East refugees into this country. Should they be?
By Zach Weissmueller
Follow us on Facebook and Twitter, and don't forget to sign up for Reason's daily updates for more content.