New Data Show Fatal Shootings of Police Fell During 'War on Cops'
The number of gun-related officer deaths was not unusually high this year or last.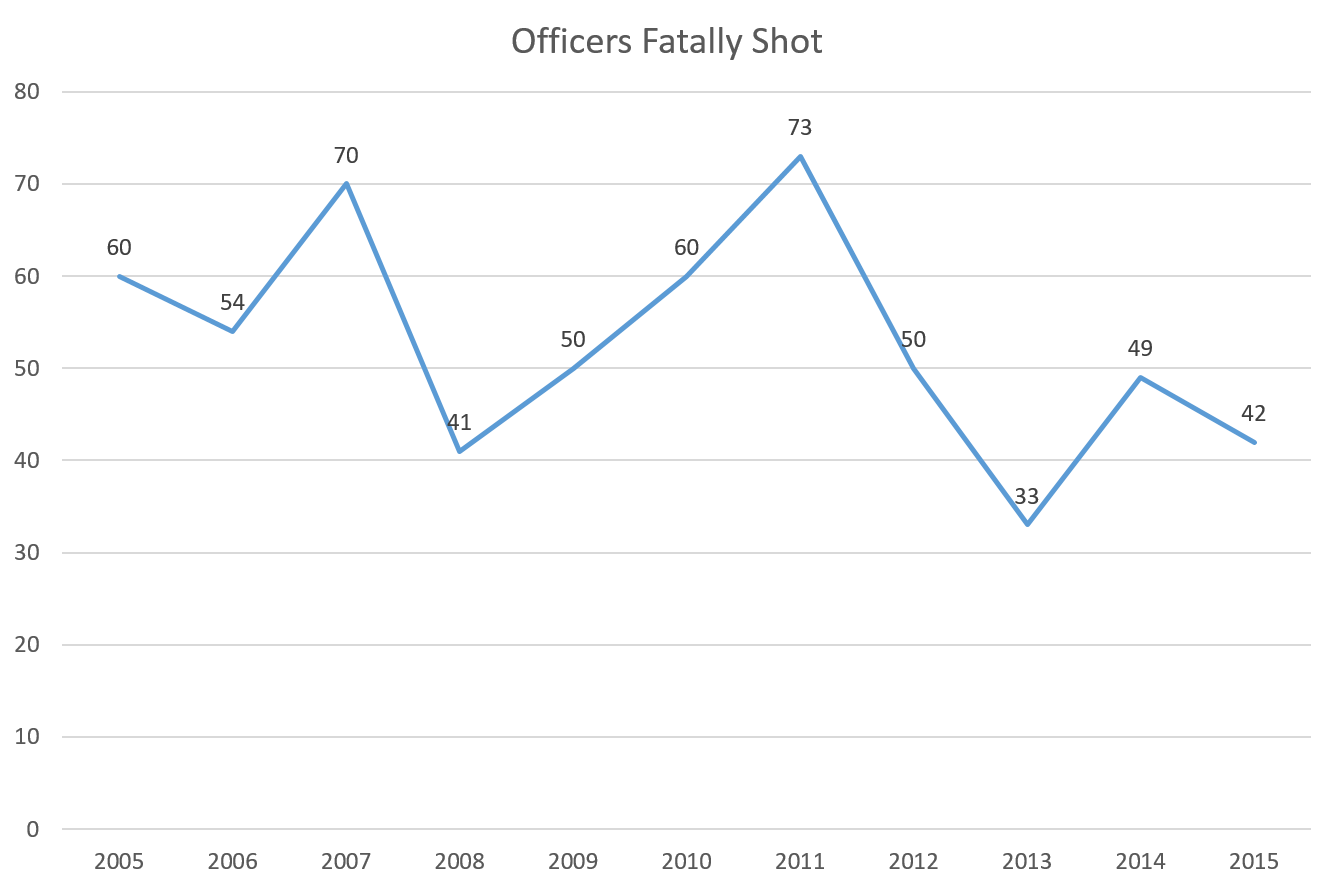 A year ago, an Investor's Business Daily editorial headlined "War on Cops Is a Threat to All" declared that "deadly attacks against police have exploded across the country, the outcome of leftist anti-police protests." Since then, according to the Nexis news database, IBD has mentioned this "war on cops" at least 32 times, while the phrase has appeared in the New York Post more than 80 times, most recently in an October 22 story reporting that "outrage over the latest killing of a police officer has caused both the family of the slain officer and even one of the city's liberal lawmakers to question whether limits on stop-and-frisk have emboldened criminals to declare war on cops." But according to a preliminary report published yesterday by the National Law Enforcement Officers Memorial Fund (NLEOMF), the number of cops fatally shot in the line of duty fell by 14 percent this year, from 49 to 42.
That number did rise in 2014, from 33 to 49, but the 2013 total was unusually low. There were fewer firearm fatalities last year than in all but two years of the last decade. The annual average for 2005 through 2014 was 54. Despite the alleged war on cops, the number of fatally shot officers was not unusually high in 2014 or 2015.
Although total officer fatalities rose this year (from 119 to 124), that was due mainly to an increase in deaths from traffic accidents, which since 2000 have claimed more officers' lives than gunshot wounds have. "Firearms-related fatalities peaked in 1973, when 156 officers were shot and killed," the NLEOMF reports. "Since then, the average number of officers killed has decreased from 127 per year in the 1970s to 57 per year in the 2000s. The 42 firearms-related fatalities in 2015 are 26 percent lower than the average of 57 per year for the decade spanning 2000-2009."
The peak year for gun-related officer deaths during the last decade was 2011, when there were 73. That year the phrase "war on cops" appeared in the newspaper and wire service articles collected by Nexis 10 times, compared to 231 times this year, when the number of shootings was 42 percent lower.
[Thanks to CharlesWT for the tip.]