Bernie Sanders Says He'll Try to Woo Donald Trump Supporters
Not surprising.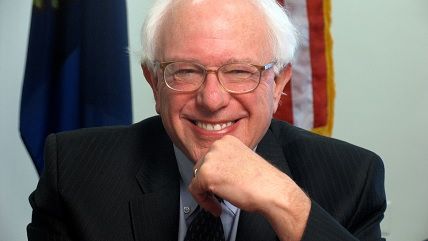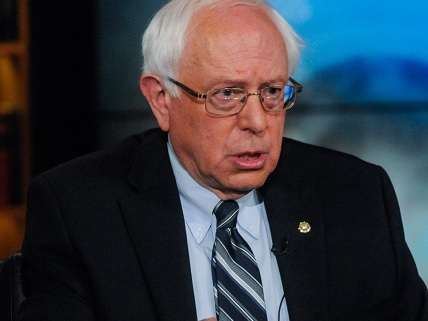 Democratic presidential candidate Sen. Bernie Sanders (I-Vt.), whose insurgent campaign against the frontrunner, Hillary Clinton, has been topping out at 30 percent, recently started to mention that his message about income inequality could appeal to many of Donald Trump's voters.
Appearing on CBS' Face the Nation yesterday, Sanders was asked about that first:
John Dickerson: This year, as we look back, you and Donald Trump are the big surprise political stories. You have suggested recently that your message about the economic inequality can appeal to the Trump voters. Explain how that happens.

Sanders: Look, many of Trump's supporters are working-class people. And they are angry.

And they're angry because they are working longer hours for lower wages. They're angry because their jobs have left this country and gone to China or other low-wage countries. They're angry because they can't afford to send their kids to college or they can't retire with dignity.

And I think what Trump has done successfully, I would say, is take that anger, take that anxiety about terrorism and say to a lot of people in this country, look, the reason for our problems is because of Mexicans. And he says, they're all criminals and rapists. We have got to hate Mexicans. Or he says about the Muslims, they are all terrorists, and we got to keep them out of this country. Those are—that's what we have to deal with to make America great.

Meanwhile, interestingly enough, John, this is a guy who does not want to raise the minimum wage. In fact, he has said that he thinks wages in America are too high. But he does want to give hundreds of billions of dollars in tax breaks to the top three-tenths of 1 percent.

So, I think for his working-class and middle-class supporter, I think we can make the case that if we really want to address the issues that people are concerned about, why the middle class is disappearing, massive income and wealth inequality in this country, that we need policies that bring us together, that take on the greed of Wall Street, the greed of corporate America, and create a middle class that works for all of us, rather than an economy that works just for a few.
Donald Trump took to Twitter to deny he said wages were too high, calling it a "lie." But on the campaign trail, he has, indeed, previously called wages "too high." Not anymore. On the trail today he said they were too low. It's not the first time Trump's changed his mind. The Washington Post counted at least 20 instances between June and August.
In the meantime, Trump argued he was winning over supporters from Sanders, because he's "lowering taxes" while Sanders would "double" or "triple" them. Outside of promises to raise taxes on the "1 percent" (not an actual tax bracket or legal term) and the super wealthy (ditto) and some kind of Wall Street tax, Sanders has said little about how he'd raise the revenue needed for his proposals for trillions in new spending—it would almost certainly require higher taxes across the board.
While Sanders comments on Face the Nation are getting a lot of press, the idea of an overlap between the positions of Bernie Sanders and Donald Trump aren't new—especially on immigration and trade, but also on campaign finance reform (part of Trump's shtick is that he can't be bought but other politicians are) and even higher taxes on parts of the financial sector.
Back in July, Sanders called the notion of "sharply raising the level of immigration we permit, even up to a level of open borders" (Ezra Klein's ham-fisted wording) a "right-wing proposal" meant to depress wages in America. This is a similar argument not only to the one Trump makes about limiting immigration, but that right-wing parties in Europe, like UKIP in Great Britain, use to argue against the actually-existing open borders policy of the European Union's Schengen area. The European Union can be a statist nightmare, but its single market's four freedoms—the free movement of goods, capital, services, and people—are not.
Sanders' own stance on immigration is vague, he says he wants to bring 11 million illegal immigrants "out of the shadows," but neither defines what that means nor offers any proposals to make legal immigration into the United States easier. None of the candidates on the Democratic or Republican side have advocated opening U.S. borders. Amnesty would be close—illegal immigrants are self-selected, and the qualifications for amnesty in most proposals are usually minimal. Hundreds of thousands of people try to cross the U.S.-Mexico border every year, legally or not. Immigration reform that leads to more legal crossings would, by definition, have to "open" the border to some degree, and even though that's hardly an "open border," it's what's usually meant when politicians, like Sanders and Trump, fearmonger over "open borders."
Similarly, while Trump has been bombastic about opposing free trade with China, Sanders is also very concerned about trade with China, and how that creates wealth for the Chinese at the expense of Americans—an economically illiterate, if not even xenophobic, argument. The xenophobia in Sanders' positions may not be as latent but it's an underlying driver of positions that view gains of "the other" (Mexican, Chinese, or otherwise) as coming at the expense of Americans—the same driver of many of Trump's positions, as Sanders noted on Face the Nation.