Regulation a Sure Bet for Fantasy Games
California attorney general asked to clamp down on online sports games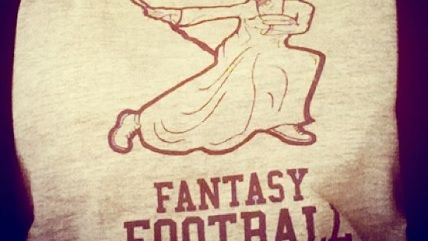 "Fantasy sports" has come a long way from the office football pool. Instead of passing around photocopied spreadsheets and collecting a few bucks from cubicle mates, players now go to sophisticated web sites, where they can make daily wagers—and not just trudge through a long sports season watching the performance of the players on their team roster. The new online games are a $1.5-billion industry.
In an ideal world, success would breed competition. These days, success draws the wary eye of regulators and established businesses that fear losing market share. Nevada, where the casino industry has much political power, has shut down these fantasy sports businesses until they receive state gambling licenses (which can be hard to get). That's no surprise.
But the angst is not just about clamping down on competition. There's an unusually vituperative effort to shut down, or severely hobble, these operations in multiple states, including California. It brings to mind legendary journalist H.L. Mencken's definition of Puritanism: "The haunting fear that someone, somewhere, may be happy." And these games bring enjoyment to millions of people, and the sports leagues like them too, given they provide additional incentive to pay attention to their games (even the ones between lousy teams).
The crux of the regulatory efforts focus on the question, "Are these games of luck or skill?" The 2006 federal law, called the Unlawful Internet Gambling and Enforcement Act, carved out an exception for games that are based on skill. Opponents say fantasy leagues really are like lotteries or pools, yet those who spend time studying the performance of professional players, or who have a better grasp of statistics, tend to be more consistent winners.
Here's how the NFL describes the game: "You decide what type of league you want to participate in, acquire a roster of players… Whether you win or lose and climb or fall… all depends on how well you maximize the talent on your team each week."
One of California's vociferous critics of fantasy sports, Assemblyman Marc Levine (D-San Rafael), backhandedly acknowledged that point during a recent hearing. Levine was criticizing the two big online sports leagues, DraftKings and FanDuel, for their marketing campaigns, which show that anyone can win: "As you have said, those with specific skills who are paying attention are going to be in the very best position to win your games. So how do you justify the marketing?"
The response is obvious. Anyone can win, but you must develop skills to do so. I've never wagered in a football pool, and find sports as interesting as watching grass grow. But I'd rather try my hand at these games than the state lottery or slot machines. The websites have daily wagers now (and not just season-long competitions), but they are still based on choices and statistics.
In a November letter to state Attorney General Kamala Harris, Levine asked her office to order fantasy sports sites "to immediately discontinue business in California." He said that even if they are determined to be games of skill, that they "should still specifically be regulated under California law before the games can operate in California." That would echo the approach taken by New York's attorney general. A state trial court has ruled against the companies, although the decision is stayed until Jan. 4. The FBI is even investigating the industry. Harris' office has not yet responded to Levine's request.
Some advocates for the industry are pushing for regulation, especially after a scandal that involved the use of insider information. Assemblyman Adam Gray, D-Merced, has authored AB 1437, which would give the California Gambling Control Commission the power to regulate these businesses. New rules might impose burdens, but it would also cement into place fantasy sports' legal status.
"The fantasy sports industry welcomes common-sense regulations to help protect consumers so long as the tens of millions of Americans who enjoy competing can continue to do so," said Rob McKenna, the former Washington state attorney general and an attorney representing the Fantasy Sports Trade Association.
That's not enough for some opponents. Cheryl Schmit, of Stand Up California, argues the "skill v. chance" debate relates to federal law only. In her view, California law forbids fantasy sports. "The attorney general has an obligation to citizens to enforce the law," Schmit told me, unless the people vote on a constitutional amendment approving such wagering. The sports leagues counter that state law does allow participation in skill-based competitions.
Opponents believe consumers are endangered and tell stories of people who squandered thousands of dollars on these websites. Then again, one can easily squander the life savings inside a casino – or in the Lottery, for that matter. Levine is an advocate for craft breweries and distilleries, which he describes as a "vital piston in California's economic engine." He's right, but it goes without saying people can overindulge in alcohol, also.
This much seems certain: Tough new regulations for the fantasy sports industry may become a reality in the coming legislative session.