Remains of American Soldiers Killed in Afghanistan Returing to U.S., Cops Meet Protesters at Mall of America, U.K. Probing Why British Muslim Family Denied Entry to U.S. While Trying to Visit Disneyland: P.M. Links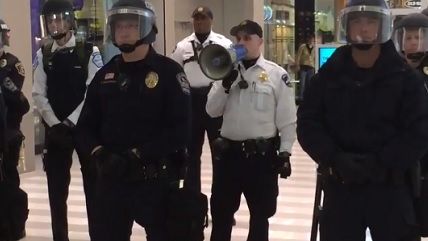 @KJohnsonKSTP/Twitter

The remains of six American soldiers killed in a suicide bombing in Afghanistan are returning to the U.S.

It's probably safe to start looking at polls now, Stephanie Slade wrote. Donald Trump crushed the latest one.
Rand Paul celebrates Festivus.
Officers prevented the entry of Black Lives Matter demonstrators into the Mall of America in Minnesota.
The prime minister of the United Kingdom said his government would probe the case of a British Muslim family denied entry to the United States while trying to visit Disneyland.
The president of Italy pardoned a former CIA station chief and another American convicted in connection with the kidnapping of an Egyptian cleric as part of an "extraordinary rendition."
The government in Somalia banned celebrations of Christmas and the New Year.
The full contents of Reason's January 2016 issue is now available here.
For access to our brand new February 2016 issue – as well as full access to all 47 years of Reason archives – subscribe to Reason Digital here.
New at Reason.com: