Rap Group Once Targeted by F.B.I. Inducted into Rock & Roll Hall of Fame
Back in 1989, federal law enforcement took "Fuck tha Police" literally.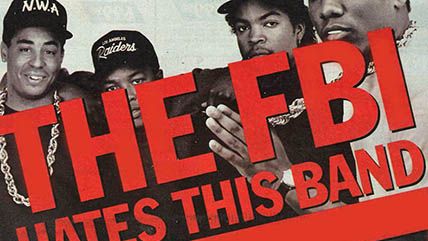 Groundbreaking Southern California gangsta rap group, N.W.A. were inducted into the Rock & Roll Hall of fame this week joining Deep Purple, Cheap Trick, Chicago and Steve Miller. From the New York Times:
N.W.A, the pioneering gangsta rap group, is only the fifth hip-hop act to join the Rock Hall, after Grandmaster Flash, Run-DMC, the Beastie Boys and Public Enemy. The group had been on the ballot three times before; this year they were the subject of a hit biopic, "Straight Outta Compton," which has grossed over $161 million at the box office and is considered a contender in the film awards season.
N.W.A. gained popularity writing larger-than-life lyrics about life in South Los Angeles, writing songs like "Fuck tha Police," with lyrics like "takin' out a police will make my day" and "beat a police outta shape." But, back in 1989, federal law enforcement took those lines literally.
The band's record label received a warning letter from the Federal Bureau of Investigation (FBI) saying the lyrics to "Fuck tha Police" promoted "violence against and disrespect for the law enforcement officer." The unforeseen publicity over the First Amendment right of these rappers only fueled the street cred of the band. For more watch "Gov't Tried to Shut Down Rap in Straight Outta Compton, and They're Still Doing It."