Police Shooting Videos Spark Need for Reform
From Chicago to San Francisco, police shooting incidents require broader debate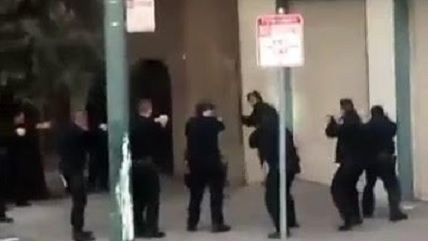 It's easy to understand why law-enforcement lobbyists have largely opposed efforts to expand the use of officer body cameras. As we see in Chicago—and now in San Francisco—the video images of police shootings may be at odds with what officers said took place.
In Chicago, protesters have been demanding the resignation of Mayor Rahm Emanuel after he delayed for more than a year the release of a video of officers shooting to death 17-year-old Laquan McDonald. After the 2014 shooting, a police spokesman said McDonald lunged at officers with a knife and was in a "crazed" condition. The video – released by court order – shows McDonald walking away from the officers, when one of them opens fire.
Protests over a recent shooting in San Francisco haven't been as widespread. But the pattern is similar. "A new video of the fatal shooting of Mario Woods shows San Francisco police officers fired a barrage of shots at him while he held his arms at his sides, an apparent contradiction to the Police Department's account that he prompted his killing by threatening an officer with a kitchen knife," according to the San Francisco Chronicle. Woods' family has filed a lawsuit, which often is the only way to dislodge official documents.
Videos don't always provide the final word, but they offer critical information. "In this modern age of cell phone video and instant analysis on the Internet, I would ask that we keep in mind that a thorough and comprehensive investigation is detailed and time intensive," Los Angeles County Sheriff Jim McDonnell said this month, after video footage showed deputies shooting an armed man, Nicholas Robertson, who seemed to be walking (then crawling) away from them.
Yet in my experience writing about such incidents, police agencies and unions often release information – sometimes misinformation – that backs their side of the story. It's difficult to get copies of investigations and police reports until long after the matter is closed. The video phenomenon is shifting the debate, which is one reason police shootings have become national news.
In Paradise, a northern California town outside of Chico, a video shows an officer coming upon the scene of an apparent drunken-driving accident. "As the driver… dragged his body out of the window vertically (the officer), very calmly from what the video shows, shot him… then calmly holstered his weapon," according to Brian Doherty at Reason. The officer never mentioned the shooting to dispatchers—and authorities say he accidentally fired the weapon. Despite the video, the Butte County district attorney is not filing charges.
Debates over such shootings invariably center on the details of the incident. Was the suspect armed? Did officers break the law? In Chicago, McDonald's killer is facing murder charges, but that's unusual because the law gives police wide latitude to use deadly force. District attorneys work closely with police agencies and rarely file criminal charges against police. Law-enforcement culture is protective of those on that side of the "thin blue line."
The better question is, "Was the shooting necessary?" Policing is a tough and sometimes dangerous job. For that reason police unions describe their members as heroes, but heroes endure some risk to protect others. Critics wonder whether police policies have tilted so far in the "officer safety" direction that officers routinely kill people unnecessarily to avoid the slightest risk to themselves. It's not so much a legal issue as an issue of proper policy, training and culture.
"Police training in many departments has taught officers that every person in the public is a potential combatant," said John Manly, a Newport Beach attorney who has represented clients in police-related cases. "It's a militarized attitude in some departments. I was in the military. I know what it looks like. But most people aren't combatants… There's an all-or-nothing attitude in these situations. We see in these videos, at a common-sense level, it doesn't make sense."
Manly calls for a greater emphasis on community oriented policing and perhaps even a state and national summit on police policies. That's long been my point. Videos of police shootings don't always contradict what police are saying – sometimes they make the officer's case, and undermine false allegations by suspects. Sometimes the videos show how murky the details can be, even when we get to hit "replay" over and over again.
But instead of focusing on the details of many of the more than 900 officer-involved killings (by some estimates) in this country each year, maybe policy makers should step back and look at the broader picture. Can't we talk about the proper rules of engagement? Can't we use this new video evidence to look at policies that better protect the public? Maybe a serious look at use-of-force policies will defuse some of the protests and anger.