Is Your Fantasy Football Squad Illegal?
A scandal sparks a new effort to regulate daily fantasy sports.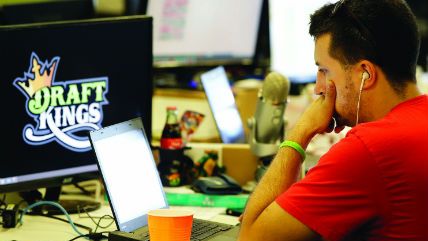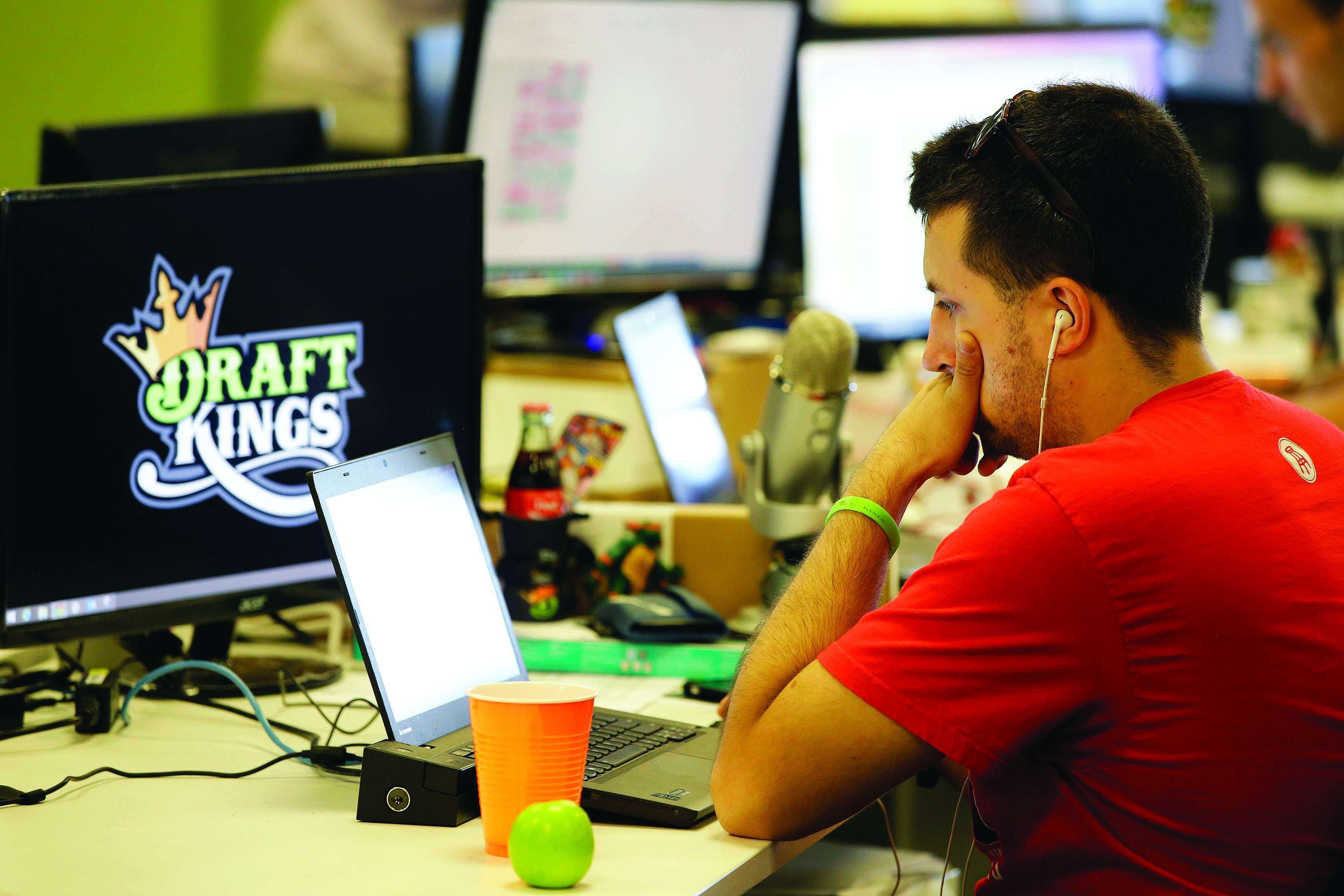 If you've been near a television anytime in the last few months, it's likely you've seen a commercial for DraftKings or FanDuel. The ads feature ecstatic real-life bros bragging about how much money their triumphant (and totally imaginary) fantasy football teams are raking in.
When the NFL season kicked off in September, buzz about the sites—which let users assemble hypothetical football squads comprised of real players and play them against other teams in day- or week-long lightning rounds—spiked, thanks to more than $200 million in television advertising in the first nine months of 2015. But the hype hit a speed bump in October, when The New York Times reported that DraftKings employee Ethan Haskell had leaked proprietary data from his company. Haskell had allegedly been using it to garner an advantage that helped him win $350,000 on their competitor, FanDuel.
The fact that betting on these lineups is legal in the first place is the result of a weird quirk in federal law. But now that the fledgling industry's first scandal is underway, the regulatory vultures are circling—much to the dismay of millions of fantasy general managers.
Insider Trading?
Many reports have described the DraftKings information leak and subsequent FanDuel payout as "insider trading," but that's not quite right. When Haskell accidentally posted a bunch of proprietary information about the frequency with which various players were being selected in lineup entries on a discussion board, he realized his error and quickly deleted the post, reassuring other readers that "I was the only person with this data and as a DK employee, am not allowed to play on site." But under industry contracts at the time, he was allowed to play on FanDuel (this policy has since been changed by DraftKings in the wake of the scandal), so when he won big later in the week, more than one eyebrow went up.
Officially, insider trading requires the trading of stocks, bonds, or other securities of a company by individuals with nonpublic access to information about that same company. That's not what happened here. What's more, the DraftKings employee received the information only after his FanDuel roster had been locked, which means that he would not have even been able to use this leaked information to tweak his entry.
But such pesky details don't seem to matter to public officials eager to grandstand. In the two weeks after the story broke, daily fantasy companies were hit with a request for a U.S. congressional hearing, nearly a dozen class-action lawsuits in five states demanding $5 billion in compensation, a probe by the New York attorney general, a review from the Massachusetts attorney general, an investigation by the U.S. attorney's office in Tampa, an investigation by the FBI and U.S. Justice Department, and proposals in dozens of states for laws to regulate or license daily fantasy operators. By the time this article is published the list is certain to be longer.
Sports attorney Daniel Wallach, in an appearance on C-SPAN a week after the news broke, declared that daily fantasy sports "will be regulated," predicting new rules would be in place by this time next year. "We're going to see regulation, and the transparency that you're looking for, the safeguards, the accountability, that apparatus will ultimately be in place, and operators will be accountable through uniform regulation. There's going to be licensing, there's going to be monitoring," he said in a jargon-laden soundbite. "This industry will thrive and survive, but it can't do so in a completely self-regulated environment."
Legal Gambling
The first major American gambling legislation came with the signing of the Federal Wire Act in 1961, which prohibited the transmission of wagers on sporting events, ushered in after a series of high-profile mob-related fixed college basketball games in the previous decade. This law remained mostly unedited until 1992, when the major American professional sports leagues and the National Collegiate Athletic Association pushed through the Professional and Amateur Sports Protection Act, which confined legal sports betting to Nevada, Oregon, Delaware, and Montana.
In 2006, with rising concerns about Internet gambling, Congress passed the Unlawful Internet Gambling Enforcement Act (UIGEA), which was intended to prohibit banks from processing payments to and from gambling websites.
It hasn't worked. Most experts estimate that legal Las Vegas sportsbooks represent less than 1 percent of all sports gambling activity in the United States.
When it comes to team sports betting, you can wager on a single event (the Cowboys will beat the Packers) or a collection of multiple events (both the Vikings and Bears will win). You can also bet on team (the Cowboys will win) or individual player performances (quarterback Tony Romo will pass for over 350 yards). When the UIGEA was written, such gambling was outlawed but an exception was carved out for just one option: Wagering on multiple individual player performances—the type of bets you make in a fantasy football league.
Fantasy football, in fact, is specifically cited in UIGEA as a legal safe harbor. The reason this type of game, and not others, is allowed under UIGEA (with the exception of five states) is its arbitrary classification as a "game of skill," while the other forms are deemed by law to be "games of chance" and thus gambling.
In reality, all of these games involve some component of both skill and luck, and there's never been any clear legal definition as to what exactly designates a game as being "of skill" or "of chance" other than ambiguous, subjective regulatory rulings. To make matters more confusing, these designations vary by state.
Traditional season-long fantasy sports, which had been around for decades, involved a collection of users drafting "teams" of individual players in a particular sport and using their stats over the course of the season to compete against other users in their league. The game mirrors actual sports management; users could add and drop players and make trades with other users. This format is still widely popular today, with over 50 million players.
Starting around 2008, however, a new form of fantasy sports started to crop up: daily fantasy. In this format, there are no season-long commitments and there's no requirement to find a group of other users to form a league. Instead, users have a salary cap of fake money they can spend on players to fill out a lineup which they enter into pools as small as two entries or as large as hundreds of thousands of totally anonymous strangers. The results play out over a short-term window (usually only one night or week).
FanDuel launched in January 2009, and a small crop of other daily fantasy sites, including DraftKings, popped up soon after. Thanks to a massive influx of venture capital money on the order of hundreds of millions of dollars, FanDuel and DraftKings grew rapidly. By the end of 2014, the two companies had signed official partnerships with the NBA, NHL, and MLB, cementing their status as establishment players in the sports world. Fantasy sports is now a $1.5 billion industry, with DraftKings and FanDuel each racking up over $300 million in funding. The two daily fantasy sports sites spent over $100 million on advertising in September and control an estimated 95 percent of the market.
Bootleggers, Baptists, and Bettors
All of this growth occurred with little regulatory framework or government oversight, but that looks likely to change, thanks to a brutal combination of rent-seeking, protectionism, and moralism.
States are leery of losing revenue from their government-backed gambling monopolies: state lotteries. A recent Boston Globe editorial against online sports betting cited concerns that it "may drain revenue from the coffers of the Lottery." Governments and their proxies disapprove of gambling—unless they are the pit bosses.
It's also not surprising that two of the strongest political voices coming out against unregulated daily fantasy sports were Sen. Bob Menendez and Rep. Frank Pallone, both Democrats of New Jersey, a state where casinos are big business. "I have serious concerns about whether these online fantasy sports leagues can police themselves," Menendez said at an October press conference. "I think Congress needs to look into this and see whether by exempting fantasy sports from the Unlawful Internet Gambling Enforcement Act, we've created a regulatory vacuum that leaves consumers out in the cold."
In late October, the Nevada Gaming Control Board, in a move widely seen as pure protectionism for its tax revenue–generating casino industry, declared daily fantasy sports to be "gambling." It filed a cease and desist order declaring that no daily fantasy sports sites could operate in the state without registering for gaming licenses, a requirement that the sites might not even be able to meet. As a result, DraftKings ended its partnership with the World Series of Poker, asked Nevada residents to withdraw funds from their accounts, and implemented blocking mechanisms on Nevada IP addresses.
While regulatory costs imposed on online operators would undoubtedly help the casino industry, such costs would also likely protect the effective DraftKings and FanDuel duopoly by raising barriers to entry for their competition.
An April 2015 paper from Ben Gitis and Sam Batkins at the American Action Forum found that after a 10 percent increase in regulatory burdens, there was a 4 to 5.8 percent decline in the number of firms with fewer than 50 employees. The same costs imposed on the largest businesses (with 500 or more employees) led to an increase in the number of firms of 1.7 to 3.4 percent.
Given that regulatory burdens are generally fixed costs, this makes sense. A state gaming license fee would be a rounding error in DraftKings' or FanDuel's budget, but it could nix new, better businesses before they even have a chance to get off the ground. The largest regulatory expenses are likely to be the legal costs. DraftKings recently hired former Massachusetts attorney general Martha Coakley as an adviser; she'll probably have to defend the company against the current A.G., who in October said, "There is little question that this industry will need to be regulated."
It's the kind of combination the Clemson economist Bruce Yandle calls a "bootleggers and Baptists" coalition. Prohibitionists who wish to regulate a certain activity on moral grounds can often find unlikely bedfellows among those who want to hamper their business competition.
One UIGEA regulation may already be keeping firms out of the market: the requirement that prize pools be named in advance, despite the fact that it's difficult for sites to predict the number of entrants who will participate in a contest.
Imagine if in your March Madness office pool (which is probably illegal, by the way) , the organizer had to announce how much the winners would get before anyone knew the number of entries. Your pool manager would be hesitant to offer too large a prize and risk losing money if only five people enter, but at the same time be fearful of naming too low a prize and making his co-workers angry when they win a 30-person pool and only get $40. Thanks to their large reserves of venture capital funding, DraftKings and FanDuel can afford to lose money (neither is yet profitable), but that's not the case for smaller firms.
Since the litigious rhetoric began, we've already seen the little guys being punished. StarsDraft, the fifth-largest daily fantasy sports site (though one backed by a multibillion-dollar gaming company), announced in late October that it would discontinue service in all but four states.
And there's already a cautionary tale of heavy-handed regulation stifling betting markets in France. Gambling proponents there initially applauded the country's passage of a 2010 law that legalized and regulated online gambling. But the law mandated an 8.5 percent tax on all sports bets, forcing sportsbooks to offer lines with extremely poor odds in order to turn a profit. This drove many bettors away from the regulated sportsbooks, and more than half the websites that first acquired licenses have since left the regulated market—a fate that could befall American companies subjected to overzealous regulators closer to home.
Play On
Initially, at least, daily fantasy players don't seem particularly troubled by the scandal. According to the industry research firm SuperLobby, in the first NFL weekend after the scandal broke, FanDuel and DraftKings together racked up 7.1 million entries to their guaranteed prize pool tournaments, worth $43.6 million in entry fees, both all-time records for the sites. It's possible that the story has actually driven more people to play, with fears of prohibition spurring some users to give it a go while the game is still legal. More likely, all the news made more people aware of the daily fantasy sports industry, and those customers weren't concerned about the alleged unfairness of the market. (One weekend later, those numbers did slightly recede.)
The odds, however, are not in most players' favor. A recent Sports Business Journal analysis found that over 90 percent of daily fantasy winnings accrue to only about 1.3 percent of players, a sharks-vs.-fish setup only possible due to the lack of dynamic, market-responsive pricing in player costs. Despite the sudden consumer protection interest, though, there have never been any major reported issues regarding payouts on legal sites.
At this point, the industry has two possible futures: It could copy the car-for-hire app Uber by pursing a super-fast growth strategy, with the hope of establishing legitimacy and a committed customer base before officialdom moves to eradicate it. Or it might follow in the footsteps of online poker, which under regulatory pressure fled offshore and into black markets.
If the Department of Justice were to suddenly rule that daily fantasy wagers are no longer permissible under UIGEA, it could instantly wipe a multibillion-dollar industry off the books and drive it underground. In fact, the daily fantasy scandal has already prompted some observers to draw parallels to what is known in the poker world as "Black Friday." On April 15, 2011, U.S. Attorney Preet Bharara unsealed an indictment that claimed the three largest online poker websites at the time had circumvented UIGEA and tricked banks into processing illegal gambling payments. The indictment froze the accounts of 75 poker companies and their processors, effectively killing the once-thriving online poker industry and leaving an estimated $150 million in customer account funds locked away in now-banned websites with no means of being accessed.
The popular and widely played daily fantasy industry is more in the Uber camp at the moment, and it may have already entrenched itself enough in the culture to avoid an outright ban. Yet even then, the growing push to regulate and tax the industry could freeze the status quo, with two big players ruling the ecosystem, in place for many years to come. That might look like a silver lining for DraftKings and FanDuel and a compromise for fantasy managers who want to keep playing, but it will make these cool new betting markets less free, less fair, and less fun.
This article originally appeared in print under the headline "Is Your Fantasy Football Squad Illegal?".