Black Lives Matter Targets Police Union Contracts, Launches CheckthePolice.org
Activists collecting and analyzing police union contracts from around the country.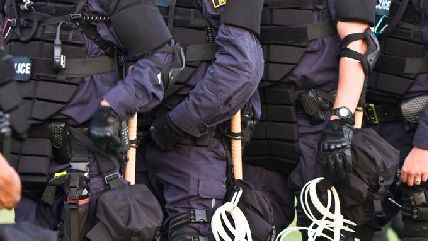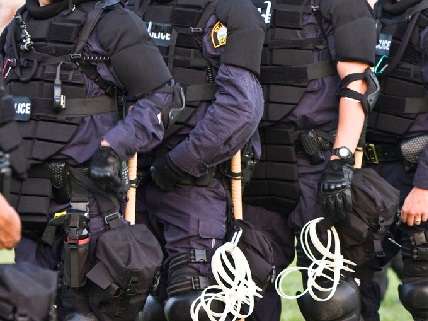 In September, activists associated with Black Lives Matter, a decentralized movement agitating for police reforms, launched Campaign Zero, a set of policy initiatives I called a "great framework" to use to push the cause of reform.
While Campaign Zero did not get as much media coverage as people and events far less directly related to Black Lives Matter, the set of policy proposals was a first step to a solution, not a last one. Campaign Zero focused on 10 initiatives:
1) End Broken Windows Policing, 2) Community Oversight, 3) Limit Use of Force, 4) Independently Investigate & Prosecute, 5) Community Representation, 6) Body Cameras, 7) Training, 8) End for-profit policing, 9) Demilitarization, 10) Fair police union contracts.
Building on the work of Campaign Zero, Black Lives Matter activists have launched CheckthePolice.org, a website dedicated to the last, and perhaps most important, initiative—rolling back some of the most egregious privileges police unions have negotiated into their contracts.
CheckthePolice.org explains how police contracts block accountability:
Preventing police officers from being interrogated immediately after being involved in an incident
Preventing information on past misconduct investigations from being recorded or retained in an officer's personnel file
Disqualifying misconduct complaints that are submitted 180+ days after an incident or that take over 1 year to investigate
Limiting civilian oversight structures from being given the authority to discipline officers for misconduct
Black Lives Matter activists have also collected and analyzed police contracts from the 100 largest cities in the United States, which is how they arrived at the conclusions above.
Black Lives Matter also found more provisions that make accountability and reform difficult, noting many contracts:
Mandate paid leave for officers who kill
Prevent anonymous complaints from being investigated
Restrict the amount of time an officer can be interrogated for misconduct
Protect the identities of violent officers from public scrutiny
Require cities to pay for misconduct settlements
Prevent civilian oversight structures from being able to interrogate or subpoena officers
Libertarians have been talking about police abuse and police reform for decades. Many of the most effective solutions, involving increased accountability and less special privileges for cops, are libertarian ones. The mainstream analysis of police brutality in the last year and a half, since events in Ferguson propelled the issue into the national news cycle, may not be particularly libertarian.
But the solutions remain so, and the work Black Lives Matter is doing to arrive at policy solutions based on observing the situation on the ground and examining how previous policies have influenced that situation bares that out as more and more of their solutions sound distinctly libertarian in nature.