Rough Porn, Rape, and James Deen: Why We Should Stop Connecting the Dots
Plenty of people enjoy rough sex and even "rape" porn without ever committing real-world sex crimes.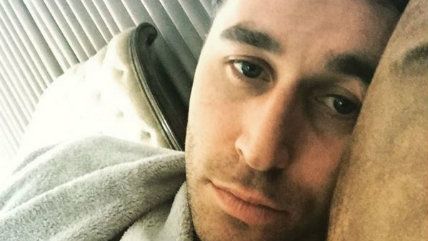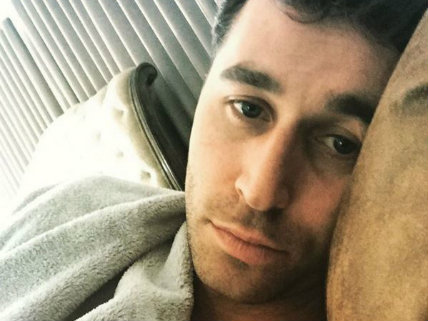 Allegations that porn star James Deen sexually assaulted several female co-stars have put the adult film industry on the defensive. With his boy-next-door looks and feminist-friendly talking points, Deen has become an industry darling since entering the business in 2004, as well as something of a mainstream celebrity (he starred in 2013's The Canyons with Lindsey Lohan) and a respected voice on issues related to sex work and consent. At the same time, Deen starred in ample films featuring rough sex, bondage, and other risqué onscreen antics. Now the usual suspects are pointing to Deen's alleged real-world violence in order to demonize kinky porn more generally.
The allegations against Deen started Saturday, when popular porn performer Stoya, who dated Deen in 2013, tweeted: "James Deen held me down and fucked me while I said no, stop, used my safeword. I just can't nod and smile when people bring him up anymore."
Soon after, two more porn actresses—Tori Lux and Ashley Fires—came forward with their own claims of victimization by Deen. In both cases, the women said Deen attacked them while on set. And Joanna Angel, who dated Deen from 2004-2010, on Sunday tweeted "You have my support @stoya. I'm here for you. This was followed by a tweet calling Deen "dead on the inside."
"He's literally the worst person I've ever met," wrote Angel. "That's all I'll say for now."
Though Angel declined to say more, porn actress Sydney Leathers told the Daily Beast that Angel had warned her about Deen when Leathers was getting started. "She told me…that I should avoid him—that he has boundary issues, basically that he tries to break women," said Leathers. "I took it to mean that he is dangerous."
Deen defended himself on Twitter, calling the assault allegations false and defamatory. "I respect women and I know and respect limits both professionally and privately," Deen wrote.
Nonetheless, Deen has already been dumped by porn site Kink.com, where he appeared frequently, and by women's blog The Frisky, where he was a regular columnist. Deen voluntarily stepped down from his chairmanship of the Adult Performer Advocacy Committee.
Is James Deen "the Bill Cosby of porn"? pondered Aurora Snow, an adult film veteran who has performed with Deen many times. Snow says she's never personally seen Deen be violent, but notes that he has "been a regular contributor to the rape fantasy genre" and "films approximately one bondage, S&M, or mock rape scene for every three regular ones." He's also spoken to interviewers about enjoying and being "pretty good at having rough sex."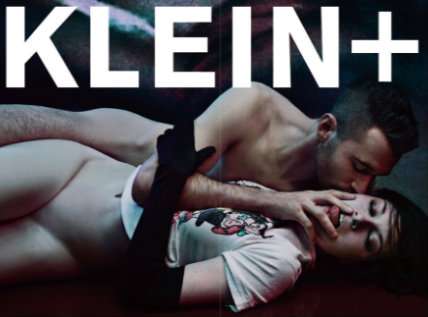 "Rape in an industry where sex—and even violent sex—is treated as just another day at the office can become a bit muddled for some," Snow concludes.
Shades of this sentiment can also be found "from the radical right to second-wave feminists," as Margaret Corvid points out at The Establishment. Because Deen acted-out rough, kinky, and faux non-consensual sex on camera, it's no wonder he committed sexual assault in real life, suggest the likes of Canadian feminist Meghan Murphy. Or because all porn should be considered violence against women, there's no difference between what Stoya accuses Deen of doing and all on-camera sex.
It's not unfamiliar territory when it comes to porn; folks have long worried that the genre will warp the sexual expectations of those who watch it. And outside of the porn world, we see similar arguments all the time: violent video games lead to mass shootings, rap music leads to gun violence, BDSM erotica leads women into abusive relationships, etc. Yet recent research shows that these theories are mostly bunk. Ordinary people, including children, can distinguish between real and fictional violence, or between dramatized sex and real sex. There's even evidence that people who watch more porn hold more feminist gender views.
Research has also shown people can tell the difference between rough sexual play and actually abusive or violent behavior. In one recent study, on the popular erotica series 50 Shades of Grey, Michigan State University researchers found young women (ages 18-24) could easily distinguish between the characters' consensual BDSM activity and the male lead's abusive tendencies.
There's simply not good evidence to support the theory that watching rough sex in porn will provoke real world violence from those viewing it.
If the assault allegations against Deen are true, it could be construed as anecdotal evidence that participating in this sort of porn provokes sexual violence. But the connection is purely speculative. It could just as easily be imagined that Deen chose to perform in these sorts of films because he was already turned on by the thought of committing acts of sexual violence. And if Deen really did play up his nice-guy, feminist image while simultaneously abusing multiple women, that would seem to be the behavior of a sociopath, not someone simply confused about sexual boundaries because of porn.
Though I wish it went without saying, there are plenty of people who enjoy all sorts of rough sex and even rape play—in their real lives and in the erotic entertainment they consume—without ever committing real-world sex crimes. Portraying Deen's alleged assaults as par for the course with kinksters does a disservice to the many, many folks who can tie someone up or slap someone around in bed without ever violating the bounds of sexual consent. Meanwhile, notes Corvid, it "gives ammunition to scumbags like MMA fighter War Machine's lawyers, who claim that Christy Mack, his former partner whom he beat nearly to death, must have consented to the beating because of her work in porn."
But blaming kinky entertainment for violent actions not only downplays perpetrators' culpability while further stigmatizing kink and sex work. It also shifts attention from legit issues in the porn industry, like why performers who are assaulted on set don't feel like they can come forward. If the Deen scandal should make us question anything about the porn industry, it's how to remedy that—not whether bondage porn should be banned.