States Play Gambling Monopoly
Governments want to ban FanDuel and DraftKings, yet the lotteries they operate are among the worst ripoffs in gambling.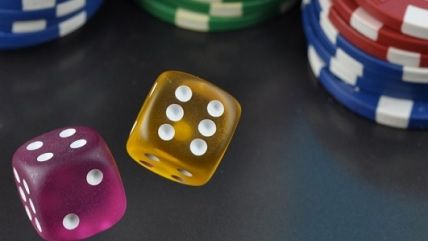 New York Attorney General Eric Schneiderman (D) did New York a huge favor earlier this month when he declared fantasy sports leagues a form of illegal gambling and ordered two of their principal organizers, DraftKings and FanDuel, to stop taking bets from state residents. Fantasy leagues are not games of skill, Schneiderman decreed, but rather games of chance, and therefore illegal under state law. And gambling is illegal for good reason: It can lead to addiction and all other sorts of social ills.
What a relief. From now on, New Yorkers will not be tempted by the deceitful lure of an easy buck, unless of course they choose to play New York's state lottery, whose motto is "Hey, You Never Know." Actually, you do know. The chances of winning the Lotto start at 48-to-1 for matching three numbers. The chance of matching all six numbers is more than 45 million to one.
New Yorkers also could wager their bottom dollars at one of the nearly two dozen casinos in the state, from the Akwesane Mohawk casino in Franklin County to the Yellow Brick Road casino in Chittenango, perhaps with a stop at the Resorts World Casino in New York City along the way.
Still, as The New York Times put it in an editorial praising Schneiderman's move, his office said fantasy sports games "are dangerous because they can be played rapidly and involve big prizes, and because of the perception that anybody can win." Boy, that's the polar opposite of lotteries and slot machines, isn't it?
Virginia, too, has a schizoid approach to gambling.
Come January, State Sen. Louise Lucas (D) will introduce legislation in the General Assembly to permit casino gambling in certain localities. Those localities must be places where at least 40 percent of the property is exempt from local real-estate taxes. In Portsmouth, which Lucas represents, 42 percent of the land is exempt. The bill would impose a 20 percent tax on gross receipts and dedicate the proceeds to a variety of transportation projects.
If past is prologue, the bill won't even get out of committee. A similar measure died this past February in the Senate's General Laws committee. In fact, Lucas has been trying to bring casino gambling to the area for years, without success. Similar efforts to bring riverboat gambling to Norfolk in the 1990s went nowhere as well.
What's more, efforts by Virginia's Indian tribes to gain federal recognition have been long delayed over concerns that greater tribal sovereignty might lead to casinos in Virginia. And among those most fiercely opposed to recognition for that reason: MGM, which is shelling out $1.2 billion for a gambling megaplex in Maryland and "wants to protect its investment from potential competition," as the Washington Post noted in April. Convenience-store owners, worried that tribes might sell gasoline on tribal lands, have opposed recognition for analagous reasons.
Gambling in Virginia is a case study in the bootleggers-and-baptists phenomenon—literally. The Virginia Assembly of Independent Baptists has fought Lucas' casino bills in the past, as has the Family Foundation of Virginia. The unholy alliance between self-seeking interests from out of state and Puritanical busybodies from in-state has kept casinos from invading the Old Dominion. Anti-gambling sentiment also helped shut down the Internet wagering cafes that popped up around the state a few years ago before the General Assembly decreed them verboten.
But Virginia still allows pari-mutuel betting on horse races—horse-racing is a noble tradition, suh—as well as off-track betting, even though its sole track, Colonial Downs, has suffered a series of setbacks and is now in intensive care, where prospects are looking grim.
With no casinos, no riverboat gambling, and no horse racing in the immediate future, Virginians who want to wager are left with few options outside the state Lottery. Like New York's, it offers a wide array of gambling options, but the odds are heavily stacked in the house's favor. The state enjoyed sales of $1.8 billion last year, and kept 29 percent of the money wagered. That's considerably higher than the typical "hold percentage" in a Las Vegas casino. And yet even though the Virginia Lottery website has a page warning about scams, it also has a page that will generate "lucky numbers" for you. (The text says "it's totally random and just for fun.") Guess which of those two page's links is bigger.
Of course, if you want to go really big-time, you can always gamble away your life savings in the stock market. Or real estate. Or multi-level marketing. Or one of the numerous get-rich-quick schemes advertised on late-night TV. You can even take all your money out of the bank in cash and burn it in a trash barrel, if you want. You can throw it down the sewer, too. Just don't throw it away in a casino, or something else that competes directly with the Lottery.
Except DraftKings and FanDuel. Those are still legal in Virginia—for now.
This article originally appeared at the Richmond Times-Dispatch.