Paris Hit With Multiple Terror Attacks, Including Shootings, Explosions, and an Ongoing Hostage Situation (Ongoing Updates)
French President Francois Hollande has declared a state of emergency and closed the country's borders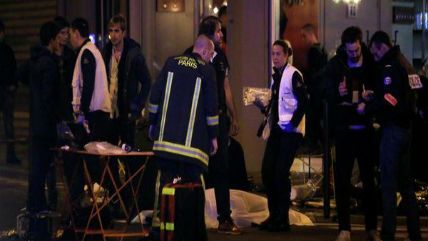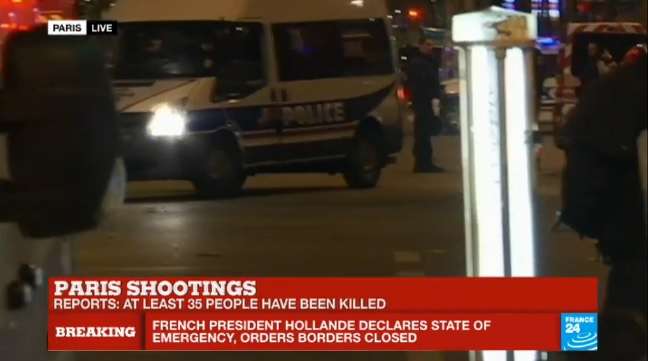 CNN, and other media outlets, are providing ongoing reporting on a series of murderous terror attacks in Paris, including multiple shootings, explosions outside a soccer game, and an ongoing hostage situation at a theater featuring a rock show by American band Eagles of Death Metal
At least six shootings took place in Paris and three explosions took place at the Stade de France in Saint-Denis late Friday, CNN affiliate BFMTV said. Two or three gunmen entered the Bataclan concert hall while opening fire on law enforcement, BFMTV reported. A source earlier told CNN there were six to eight hostage takers, citing a person they were talking to inside the venue.

— Paris police tell CNN there were three attacks. Attackers reportedly used AK-47 automatic weapons.

— CNN's Jim Bittermann, who is based in Paris, reports a producer who is at the Bataclan tells him that police are firing at a rooftop position near the venue.
The UK Telegraph reports that:
According to BFMTV, one of the gunmen shouted: "It's for Syria" at Bataclan and Allahu Akbar.

There has been no official comment on motive.
Unfortunately, this horrible story will continue to develop. The Associated Press has a story being updated as things happen or are confirmed. The BBC's updates are here.
(Update): For ongoing reporting from within Paris, France 24 has an English-language live feed watchable online here. As of 6:20 p.m. Eastern time, they have the death toll listed as at least 35 people.
(Update, 6:40 p.m. Eastern): President Barack Obama has condemned the attack (Via USA Today):
"Once again we've seen an outrageous attempt to terrorize innocent civilians," he said, "This is an attack not just on Paris and not just on people of France, but this is an attack on all of humanity and the universal values that we share."

The president said he had not spoken to French President Francois Hollande but would shortly. He said his team is was still gathering information and he didn't want to speculate about who might be responsible.

But he said the United States stands ready to provide whatever assistance may be necessary and vowed to work with the French and nations around the world "to bring these terrorists to justice, and to go after any terrorist networks that go after our people."
France 24 has updated the death count to at least 40 and says the incidents have taken place at seven separate locations.
(Update, 6:45 p.m., Eastern): France 24 is reporting that police have stormed the concert hall where hostages have been held.
(Update, 7 p.m., Eastern): Multiple media outlets are reporting the raid is over and two shooters have been killed by police. The death count has not been updated, and representatives of Eagles of Death Metal have posted on Facebook that they're not sure of the status or safety of the band and crew yet.
(Update, 7:30., Eastern): France 24 is reporting from security sources that "hundreds" have been killed at the concert hall location where the hostages were held.
(Update, 8 p.m., Eastern): The estimated death toll at the moment stands at around 140. There have been no reports of new incidents since the raid of the concert hall.
(Update, 8:40 p.m., Eastern): Five attackers have been killed according to French prosecutors, but it's still apparently not known how many people were actually involved in the attack. At least one of them was a suicide bomber who apparently detonated, accounting for one of the bombs.
Update, 8:50 p.m., Eastern): A relative of a band member told The Washington Post that Eagles of Death Metal were able to escape the assault on the concert hall:
Relatives of members in Eagles of Death Metal who spoke to The Washington Post said the band managed to escape.

Mary Lou Dorio, the mother of Julian Dorio, the band's drummer, told The Post that her son was safe. She said the band members managed to flee the concert hall when the attack began, but that the fate of several crew members remains unknown.
(Update, 8:55 p.m., Eastern) French President Hollande is reported by the Washington Post to have said "that France was 'going to lead a war,' presumably against Islamist militants. He said his country's response would be 'ruthless.'"