Ruling Against California's Death Penalty Reversed, Officer Who Killed Corey Jones Fired, U of Missouri Names Interim President: P.M. Links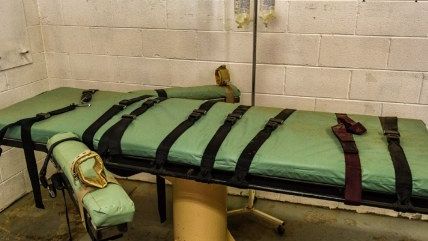 (Ken Piorkowski / photo on flickr)
Credit: Ken Piorkowski / photo on flickr

A federal appeals court panel has unanimously reversed a lower court ruling that declared California's death penalty to be unconstitutional. A lower court had determined that the system constituted cruel and unusual punishment because of delays and uncertainty with appeals. California has hundreds of prisoners on death row but hasn't executed anybody in nearly a decade over challenges.

The police officer who shot and killed Corey Jones, who had been stopped on the side of the road with a broken-down vehicle in Palm Beach Gardens, Florida, has been fired.
Graphic video has been released showing police in Virginia Tasing a man over and over again outside a hospital where he was originally brought for medical help. The man, Linwood Lambert, 46, died.
Sources tell Fox News that the FBI is expanding its probe of Hillary Clinton's private email server issues to determine whether anybody made false statements to them.
A judge in Utah took a lesbian couple's foster child away to give to a straight couple because he said the child would be better off raised by heterosexuals. The couple is fighting the ruling, and Republican Gov. Gary Herbert criticized it as another form of "activism on the bench."
The Border Patrol is putting off a decision whether to make agents wear body cameras to do more research.
The University of Missouri has named a new interim president, and he is black.
New at Reason.com
Follow us on Facebook and Twitter, and don't forget to sign up for Reason's daily updates for more content.