Obama Will Make National Interest Decision on the Keystone Pipeline Before Leaving Office
The president is now in a big hurry after 7 years of delay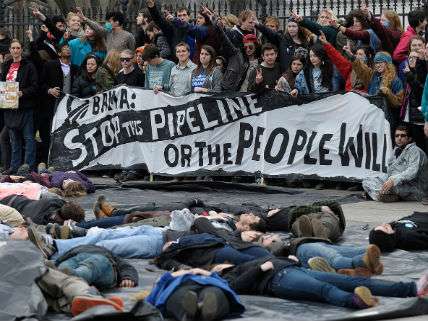 Earlier today, I reported on the regulatory end run that Transcanada—the would-be builder and operator of the Keystone Pipeline—was trying to execute by asking for a pause in the State Department's review of its application. The pipeline would transport oil sands crude to refineries on the U.S. Gulf Coast.
After enduring seven years of delay and regulatory chicanery, the folks at Transcanada had evidently concluded that President Obama would soon decide that the pipeline is not in the national interest due to his climate concerns. A decision against the pipeline would burnish the president's environmentalist cred and leave behind yet another "legacy."
In less than 24 hours after Transcanada's request, the White House spokesfolk are telling the press that President Obama will make his decision before leaving office. From the Washington Post:
White House officials said Tuesday the president intends to decide the fate of the Keystone XL pipeline during his tenure, rather than suspend the federal review process at the request of the project's sponsor.

Speaking to reporters, White House press secretary Josh Earnest said President Obama "would like to have this determination be completed before he leaves office" and was not inclined to extend the seven-year review process even longer just because one section of the route is still awaiting approval in Nebraska. …

…Earnest's comments suggested that the administration — which has been under serious pressure for years from both environmental advocates and major Democratic supporters to block the pipeline — has come to see the project as a powerful symbol of what Obama could do unilaterally to keep fossil fuels underground.
For the record, all three Democratic presidential candidates oppose the pipeline and all Republican candidates (whatever number there is) support it.