5 things to Watch For in Tonight's GOP Debate
Trump vs. Carson! Budget-deal bluster! Entitlements, pot, and more...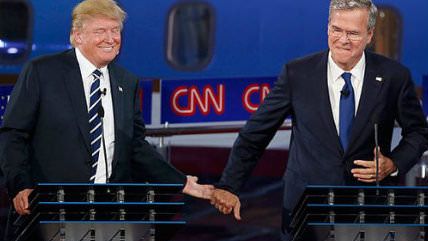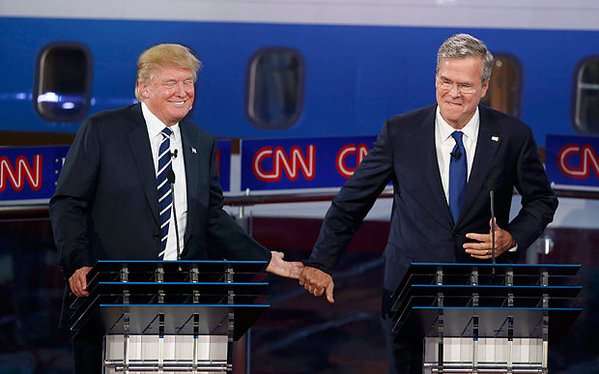 The Republican presidential primary candidate clown-car arrives in Boulder, Colorado, tonight for a third prime-time showdown.
The top 10 GOP presidential hopefuls, all of whom averaged at least 3 percent in a selection of recent national polls, will face off against each other and a trio of moderators from debate host CNBC at 8 p.m. ET. Four additional candidates who didn't reach the 3 percent threshold but did come in above 1 percent will once again participate in a lower-tier undercard debate at 6 p.m.
The debate will be quick, and may not include much real debating. After complaints from several of the campaigns about the length of the last debate, which ran more than three hours, debate organizers agreed to limit the total event time to just two hours, and to allow the candidates to give opening and closing remarks as well, which will leave relatively little time for questions from the moderators or interactions with other candidates.
As always, your friendly writers and editors here at Reason will be live-tweeting both events, so make sure to check in for quick quips and commentary throughout the evening. In the meantime, here are 5 things to watch for during the main event.
1) Emerging rivalries: In the month and a half since the last GOP debate, the race has grown more contentious. With less time to make their case, the candidates are increasingly lashing out at their competitors, and, as a result, a web of rivalries has emerged. Chief among these is the jousting between Donald Trump, who has been the frontrunner since the middle of the summer but now looks to be slipping somewhat, and neurosurgeon Ben Carson, who has surpassed Trump in the crucial early caucus state of Iowa and one recent national poll. Trump, who earlier this year said he would not attack Carson, has knocked Carson for his Seventh Day Adventism, but Carson has said he won't hit back. But given the tendency of both candidates to go off-script and talk in ways that most conventional politicians wouldn't dare, it's easy to imagine sparks flying between them. The back and forth between these two novice, say-anything candidates—the loudmouth frontrunner and his soft-spoken competitor—is the biggest storyline going into the debate.
But Carson and Trump aren't the only pair of rivals to watch: There's also former Florida Governor Jeb Bush, who recently downsized his campaign after months struggling to gain traction, and Marco Rubio, the Florida Senator who is Bush's chief rival in the race to be the party's establishment-favorite. Bush and Rubio aren't just competing over voters; they're also competing over donors, many of whom are already putting an awful lot of pressure on Bush to shore up his numbers and prove that he can be a viable competitor to the race's unconventional frontrunners.
And there's still a simmering anger between Trump and Bush, who clearly resents the way that Trump has changed the race and taken the early, dominant front-runner slot he was aiming for.
2) Is Rubio the shadow front-runner? All the polls right now say that the primary race is between Donald Trump (26.8 in the RealClearPolitics average) and Ben Carson (22 at RCP). But there's a growing sense amongst political watchers that Rubio, despite his modest poll numbers, may actually be the best positioned to win the race. New York Times columnist Ross Douthat this week made a fairly convincing case that Rubio is the most likely winner when it's all over, because all of the other candidates are ultimately impossible to imagine as winners. Vox's Ezra Klein wrote a similar column earlier this month. Rubio is currently favored to win by bookmakers, according to Maxim Lott's new Election Betting Odds site, which gives the Florida senator far better odds than any other candidate. The question now is whether Rubio can actually make good on the promise that so many observers see in him.
3) Substantive discussion of entitlements and the economy: So far, the Republican debates have been fairly short on meaningful discussion of domestic economic policy. Instead, they've served more as demonstrations of the candidates' various personas—character-driven reality show challenges more than serious management interviews.
That might change tonight, at least a little bit, for two reasons. The first is that the CNBC says it's building the debate around jobs and the economy, which should focus the questioning somewhat. The second is that the campaigns are far enough along by now that many of them have at least indicated basic frameworks for how they might address some of these issues. Ben Carson, for example, has been talking up a vague plan to replace Obamacare and Medicare with tax credits, though he recently revised the idea to make it optional. And just yesterday, Jeb Bush released a somewhat more detailed plan to overhaul Social Security and Medicare; the timing suggests it's an issue he might go out of his way to delve into during the debate.
4) The awful new budget deal between Congress and the White House: The budget deal, which suspends the debt limit and avoids a potential government shutdown in exchange for raising spending about $80 billion over the next two years, has already attracted criticism from several GOP candidates. Kentucky Sen. Rand Paul slammed it as "rotten" and promised to do "everything in my power to stop it," including a potential filibuster. Texas Sen. Ted Cruz called it a "golden parachute" for House Speaker John Boehner. Ben Carson has said flatly that he would never raise the debt ceiling if he became president. Expect all the candidates to be pressured tonight about whether they would raise the debt limit and under what conditions, and what they might do to reform the deadline-driven budget process.
5) Does pot make an appearance? It's a bit of a long-shot, given the short debate time and the focus on economic issues, but given that the debate is being held in one of the states that recently legalized marijuana, questions or comments about pot policy could still come up, especially in regards to state revenue issues. Even if the moderators don't get to it, candidates—especially Rand Paul—might. The Kentucky Senator has already broached the topic in a recent visit to Colorado, saying, "I'm not here to advocate for marijuana. But I'm here to advocate for freedom. And you know what, if I'm president I'm going to leave Colorado the hell alone." (Read Matt Welch on why Rand Paul should just come out and argue for full-fledged pot legalization already.)