The War in Iraq, Part ?
Secretary of Defense Ashton Carter says to expect more U.S. "direct action on the ground" in Iraq.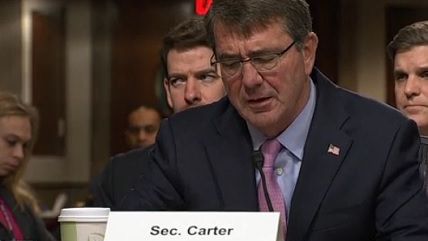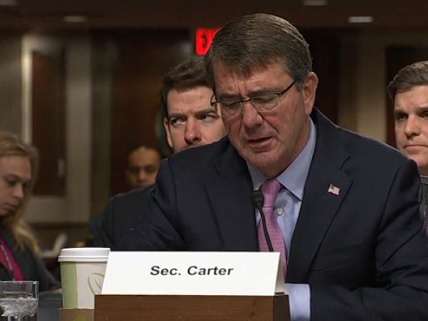 At a Senate Armed Forces Committee hearing today, Secretary of Defense Ashton Carter acknowledged the United States was involved in "direct action on the ground" against the Islamic State in Iraq and Syria (ISIS), saying the U.S. wouldn't "hold back from supporting capable partners in opportunistic attacks against" it, "or conducting such missions directly," including with air strikes or ground action.
The U.S. has denied troops deployed in Iraq to battle ISIS would be involved in "combat," but after Delta Force commando Joshua Wheeler was shot and killed during a rescue operation to free hostages from an ISIS prison, Carter admitted the operation was a "combat" one and that more raids like it would follow. The U.S. says American and Kurdish commandos received information the hostages were going to be killed. A White House deputy press secretary insisted the Obama administration had "no intention of long term ground combat."
Army Specialist David Hickman was the last U.S. service member to be killed in combat before President Obama announced the end of the combat mission in 2011 as agreed upon by Iraq and the U.S. government in 2008. While Foreign Policy reports Wheeler is the first combat casualty in Iraq since then, iCasualty.org lists Sgt. Anthony Salazar as having died from hostile fire in "southwest Asia" on April 13, 2015. Salazar's death was reported at the time as having been during a "non-combat related incident" while serving as part of Operation Inherent Resolve, the U.S. war against ISIS, and under investigation by the Defense Department.
At today's hearing, Sen. Lindsey Graham (R-S.C.) lambasted the "half-assed strategy" the U.S. was pursuing in Iraq and Syria, lamenting that not a "damn thing" was being done to get rid of Syrian President Bashar Assad.
Russia escalated its pro-Assad intervention in Syria earlier this month with air strikes it said targeted ISIS locations in Syria but the U.S. claims has hit non-ISIS rebels instead. Pressed at the hearing by Sen. John McCain (R-Ariz.) as to whether the U.S. would provide support for rebels it backed if they came under attack by Russia, Joint Chiefs of Staff Gen. Joseph Dunford, who joined Carter at the hearing, insisted Russian air strikes had not targeted the Free Syrian Army, the U.S.'s preferred rebel group in Syria.
President Obama has not commented on the acknowledgement of renewed combat in Iraq.