Sorry, Bernie Sanders. Raising the Minimum Wage to $15 an Hour Wouldn't Create Millions of Jobs. But It Might Destroy Them.
This is an idea that's become increasingly common amongst more liberal Democratic politicians and policymakers.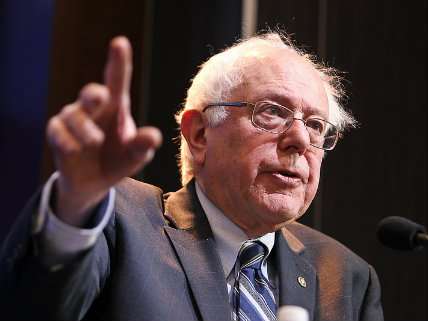 On several occasions during last night's Democratic presidential debate, Vermont Senator Bernie Sanders, the self-described democratic socialist whose populist presidential campaign has posted surprisingly strong numbers all summer, voiced support for raising the federal minimum wage to $15 an hour.
"In my view," Sanders said at one point, "what we need to do is create millions of jobs by rebuilding our crumbling infrastructure; raise the minimum wage to $15 an hour; pay equity for women workers; and our disastrous trade policies, which have cost us millions of jobs; and make every public college and university in this country tuition free."
Raising the minimum wage like this is an idea that's become increasingly common amongst more liberal Democratic politicians and policymakers: The city of Seattle, Washington passed a law raising its minimum wage to $15 last year, and the Los Angeles city council voted to follow suit. Soon after, New York state announced a plan to raise the minimum wage of all fast food workers to $15, and the state's governor, Andrew Cuomo, recently said he believes it should apply to all workers.
Many of these plans start from the assumption, implicitly or explicitly, that these minimum wage hikes would be relatively cost-free, pointing to several studies seeming to show that increases in the minimum wage don't have much effect on jobs.
Here is what the author of some of the most influential of those studies, former Obama administration economic adviser Alan B. Krueger, had to say about raising the federal minimum wage to $15 an hour in an op-ed for The New York Times last week:
15 an hour is beyond international experience, and could well be counterproductive. Although some high-wage cities and states could probably absorb a $15-an-hour minimum wage with little or no job loss, it is far from clear that the same could be said for every state, city and town in the United States.
Krueger goes on to warn of greater risk, and the potential for "severe" trade-offs, if policymakers pursue a $15 minimum wage, warning that it would go beyond what any research supports. Ultimately, he concludes, it is "a risk not worth taking. "
Krueger wasn't disowning his own work or abandoning his position. He still supports raising the minimum wage to $12 an hour over a period of years, which he thinks could be done with essentially no job loss.
There are some reasons to be skeptical of that claim too: The Congressional Budget Office, which generally tries to take a moderate approach to economic evidence and put its estimates right in the middle of the consensus range, found that even a more modest hike to $10.10 an hour nationally would most likely cost about a half a million jobs, and while it's possible such a raise might produce minimal job loss, it's equally possible that it would cost a million jobs.
Overall, as David Neumark and William Wascher have found, the bulk of the evidence from research into the minimum wage suggests that hikes tend to decrease employment.
The point is that Krueger's research, while notable and worth paying attention to, is on the edge of what the evidence can possibly support.
But Democrats like Sanders who support a $15 federal minimum wage have gone far beyond even that. There is no evidence whatsoever to support such a move, which would be, at best, a foolish gamble with the nation's economy.
It is especially telling that Sanders' call for a higher federal minimum wage came in the midst of a related call to create millions of jobs through infrastructure projects, and fears that trade has cost the nation employment too (it hasn't). Sanders says he wants to create millions of jobs. But he's proposing policies that might well destroy them.