Teen Boy Suspended for 'Inappropriate Touching'… During Football Practice
Looks like the teen was framed by a bully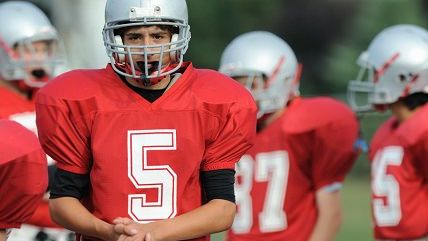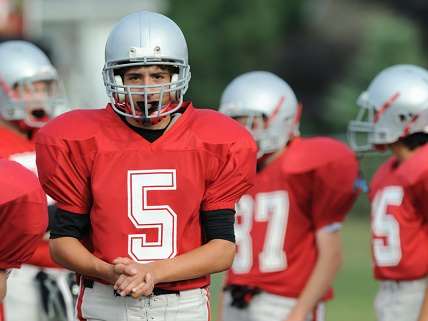 Is it possible to play football without touching another person? That's the question Garrett Moore—a Salem, Oregon, high school student—will be pondering while he serves his three-day suspension for inappropriately touching another player during a practice snap.
The Statesman Journal interviewed Moore; it seems fairly clear that the teen is not some kind of pervert, but rather, the victim of a bully who was trying to get him in trouble:
Moore said he was instructed by a coach to take a snap under center, which is when the quarterback has the ball handed to him from the center.
Centers snap the ball from the ground between their legs for the quarterback to grab. To take the ball, quarterbacks must place their hands between the center's legs and up against the crotch.

The center was a player with whom he had problems, including the player pushing him to the ground earlier in practice.

He said the center instructed him to take the snap farther forward in his stance than he had with other centers.

"He wanted me to go way up there and it felt very uncomfortable," Moore said. "I was, like, moving my hands and I touched him and he started laughing. I guess I tickled him. I wouldn't mean to. That's kind of weird."
Later, the center walked up to Moore and kneed him in the crotch. The coach scolded the center for doing that. The next day, Moore was called into the principal's office; the center had accused Moore of grabbing him during the snap. Moore gave his side of the story, but was then called back to the principal's office—this time, in the company of a security guard:
Moore was again called to Miller's office and this time escorted by a security guard. Moore said Miller asked if he had tickled the other boy while taking the snap in practice.

"I'm like, 'I guess,' " Moore said. "He was laughing when I touched him. I didn't mean to say tickle. I said tickle because he laughed.

"He calls my mom, makes it sound like I'm a complete pervert and she comes to get me."
Moore's disciplinary record will now reflect that he was suspended for inappropriately touching another student, unless his mother can persuade the school district to overturn his punishment.
We don't have the other student's side of the story. But it sure looks like Moore's adversary either planned to humiliate him all along, or decided to play the victim after he got in trouble for roughing up Moore. Either way, the school isn't doing anyone any good by pretending that unintentional inappropriate touching during football practice is a suspension-worthy offense.