Body Camera Footage Helps Protect Good Cops
Example provided in Cleveland shooting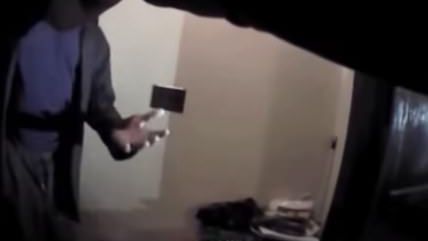 Check out this body camera footage from a police shooting in Cleveland. Not only do they refrain from immediately opening fire on an agitated man who actually shoots one of them, they give him plenty of opportunity to surrender afterward. Unfortunately he appears to have been insistent on committing suicide by cop and eventually got his wish:
The camera footage cuts off before showing the officers shooting Theodore Johnson, 64, to death, right after Johnson raised the gun he was holding. The body camera footage was released this week, but only after a grand jury had determined the four officers involved had been justified in the shooting.
In that sense, it's easy to see why the body camera footage has been released. While it's a reminder for cops that body camera footage can actually help them, there's still the matter that the same government officials who run this system of police accountability have a lot of influence over how much the public will get to see and when. If the shooting looked sketchy or much less obviously justified, and the grand jury had nevertheless declared it justified, would the prosecutor still have released it? Actually, they might have, given that authorities very quickly released the body camera footage when University of Cincinnati Police Officer Ray Tensing (who has been indicted for murder) shot and killed a man who tried to drive away from a traffic stop over a missing front license plate. But the larger point is still intact: Officials who are heavily involved in the cases themselves are also deciding what the public is allowed to see.
Gov. John Kasich (candidate for president, some may recall) has just put together an advisory board to develop standards for body camera use in Ohio. They will be including an examination of privacy issues and public records issues involved in the use of body cameras.
Elsewhere on the police shooting beat, the feds may actually be getting serious about getting more accurate (as in, even remotely accurate) numbers on the number of people killed by police officers in America each year. As Reason and other media outlets have previously noted, the FBI's stats on justified homicides by police are gathered through a voluntary program that has a significant non-participation rate. As a result the federal numbers the FBi puts out for police homicides are missing somewhere around half of them.
So private media sources have stepped up to keep track of the deaths. Earlier this week FBI Director James Comey said he found the lack of reliable statistics on police shootings to be "embarrassing." From the Washington Post:
Speaking to a private gathering of more than 100 politicians and top law enforcement officials, Comey expressed frustration that the federal government has no better data on police shootings than databases assembled this year by The Washington Post and the Guardian newspaper.

"It is unacceptable that The Washington Post and the Guardian newspaper from the U.K. are becoming the lead source of information about violent encounters between police and civilians. That is not good for anybody," he said.

"You can get online today and figure out how many tickets were sold to 'The Martian,' which I saw this weekend. .?.?. The CDC can do the same with the flu," he continued. "It's ridiculous — it's embarrassing and ridiculous — that we can't talk about crime in the same way, especially in the high-stakes incidents when your officers have to use force."
The Department of Justice announced on Monday it will be creating its own database on deaths in police custody. How they're going to do so remains unclear at this point, but according to the Washington Post, one the possibilities is actually consulting those media created databases for more accurate figures and then requesting additional information from officials for each case.