More Hillary Clinton Email News, More Hillary Clinton Falsehoods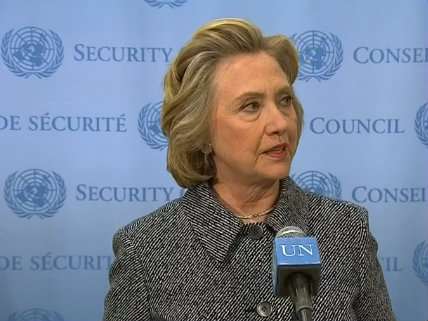 It seems like every time we learn something new about Hillary Clinton's email, we find out that something Hillary Clinton had previously said isn't true.
Case in point: Clinton's decision earlier this year to turn over to the State Department a trove of work-related emails from the private email account she relied on exclusively during her time as Secretary of State.
Clinton said she provided the emails in response to an unremarkable request for records that went out to everyone who has held the job.
Yet as The Washington Post reported earlier this week, that doesn't appear to be correct:
Throughout the controversy over her use of a private e-mail system while she was secretary of state, Hillary Rodham Clinton has described her decision last year to turn over thousands of work-related e-mails as a response to a routine-sounding records request.

"When we were asked to help the State Department make sure they had everything from other secretaries of state, not just me, I'm the one who said, 'Okay, great, I will go through them again,'?" Clinton said Sunday on CBS's "Face the Nation." "And we provided all of them."

But State Department officials provided new information Tuesday that undercuts Clinton's characterization. They said the request was not simply about general rec­ord-keeping but was prompted entirely by the discovery that Clinton had exclusively used a private e-mail system. They also said they first contacted her in the summer of 2014, at least three months before the agency asked Clinton and three of her predecessors to provide their e-mails.
When Clinton was asked by a reporter from the Des Moines Register about the difference between her version of the handover and the Post's report, she…didn't have anything to say.
"I don't know that. I can't answer that," Clinton answered. "All I know is that they sent the same letter to everybody. That's my understanding."
Then there's the matter of her email server, which was recently turned over to the FBI. That server had been wiped clean of Clinton's email after her aides went through its contents and selected thousands of pages of correspondence to turn over. Clinton said that some emails from the server had not been turned over because they were personal in nature. But in August she certified, in a signed document, that all work-related emails from the account had been given to the Department of State.
FBI investigators, however, have been able to recover some emails from the erased server, Bloomberg reported on Tuesday. And according to The New York Times, "F.B.I. investigators have recovered work-related and personal emails that Hillary Rodham Clinton said had been deleted from the server." [Bold added.]
Huh.
I have no idea what, if anything, investigators will find on Clinton's server, but the fact that she refused for months to turn it over to investigators suggests that there's something on it she'd rather not be made public.
But as I have argued before, what matters in this story, at least so far, isn't the content of the emails; it's how Clinton has behaved and responded as the story has unfolded.
Instead of being direct and forthcoming, she has responded with arrogance and inaccuracies, repeatedly making claims that simply don't hold up when examined. The email story, in other words, has shown us how Clinton responds to the sort of basic questioning and scrutiny that she would receive every minute of every day as President of the United States—and that response is revealing, and damning, enough.