Federal Bill Offers One-Two Punch Against Marijuana Meddling, Asset Forfeiture
Would forbid use of seized funds to perpetuate drug war.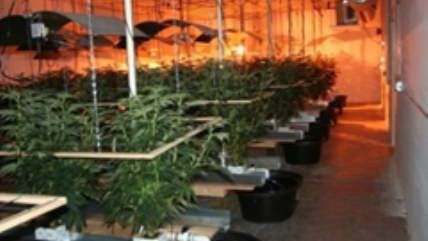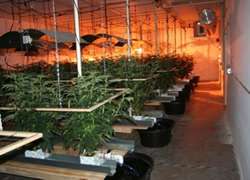 Reps. Justin Amash (R-Mich.) and Ted Lieu (D-Calif.) have joined up for an interesting proposal to scale back both the drug war and asset forfeiture on the federal level. Rather than trying to control how law enforcement agencies collect or distribute seized assets from busts, they want to reduce some incentives by controlling how the seized assets may be used.
The two of them have partnered together to introduce legislation that would prohibit the use of money from federal asset forfeiture program to participate in the Drug Enforcement Administration's (DEA) marijuana eradication program. H.R. 3518 would order "beginning in fiscal year 2015, and for each fiscal year thereafter, no amounts in the Fund may be used for the Domestic Cannabis Suppression/Eradication Program of the Drug Enforcement Administration, or any substantially similar program." It would also prohibit seized property from being transferred to law enforcement agencies if that property would be used for purposes of participating in the marijuana eradication program.
Here's what Lieu and Amash had to say about their efforts:
"As multiple states legalize marijuana across our nation, it is a huge waste of federal resources for the DEA to eradicate marijuana," said Congressman Lieu. "The federal government should focus its precious resources on other issues and let the states innovate in the cannabis field. I am proud to introduce this bipartisan bill along with Congressman Amash."

"Civil asset forfeiture allows innocent people to have their property taken without sufficient due process, and this program encourages civil asset forfeiture by allowing the DEA to use the proceeds of seized property to fund marijuana prohibition enforcement," said Congressman Amash. "This is especially troubling given that the federal government should not be expending resources on marijuana prohibition—enforcement is a state-level issue, and an increasing number of states are deciding to back off from prohibition. I'm pleased to introduce this bipartisan bill with Congressman Lieu to stop the use of civil forfeiture proceeds for this element of the federal government's marijuana enforcement efforts."
For its part, the DEA boasts that in 2014 it eradicated more than 4 million marijuana plants in the United States through the help of this program and participating law enforcement agencies. This resulted in more than 6,300 arrests and the seizure of more than $27 million in assets.
That puts a clever little twist on what the legislation is trying to accomplish. By preventing law enforcement agencies from using seized money from this program, that means even if law enforcement agencies want to continue with the marijuana eradication, they can't use the assets they seize from it to fund future efforts.
The bill was introduced just last week and is currently sitting in the House Judiciary Committee. Does it have a chance to get anywhere? Well, in April Rep. Dana Rohrabacher (R-Calif.) introduced a bill that would stop the feds from enforcing the federal marijuana ban in states that have legalized possession. In May it was referred to a subcommittee of the House Judiciary Committee, and nothing has come of it since then.