Can Flip Flops Prevent the Next War? Two Vets Think So
Combat Flip Flops seek peace through 'business, not bullets'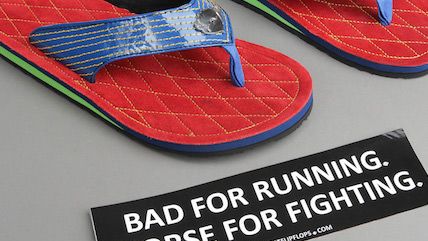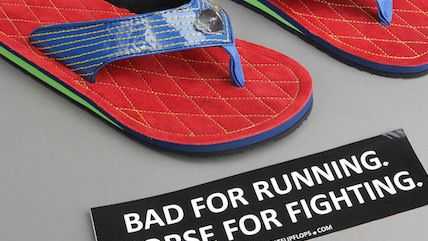 Matthew "Griff" Griffin and Donald Lee served multiple tours in Afghanistan as members of the elite Army special operations force, the 75th Ranger Regiment. Now, they believe there's a better path to peace: selling flip flops.
"We're preparing to make the exact same mistakes as we did in Afghanistan in the '80s. And if we make those mistakes, those little girls, those little boys that go to school with my daughter…[are] going to be fighting there again in 10 years," states Griff. "We can make a change."
The Rangers used to trek through remote mountain villages, hunting Al Qaeda and Taliban fighters who thought they could hide there during the punishing Afghan winters. They faced a common paradox of modern warfare: winning hearts and minds while conducting raids, armed to the teeth. After leaving active duty, they joined forces once again to create Combat Flip Flops, a company that flips the battle on how wars are won through their "Business, not Bullets" mantra.
Griff and Lee recently sat down with Reason TV producer Justin Monticello to discuss their company's history, growth, and ethos.
This video was originally posted on Sept. 18, 2015. Full text, links, and downloadable versions can be found here.