Feds on Asset Forfeiture Reform: It's Too Much Trouble to Track Convictions Before Taking People's Stuff
California's participation in federal program threatened just by calling for better due process.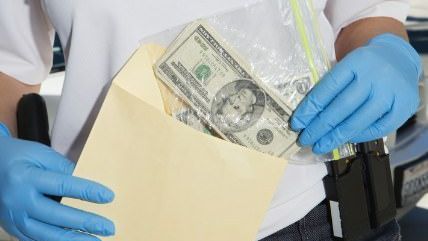 (Credit: Photographerlondon | Dreamstime.com)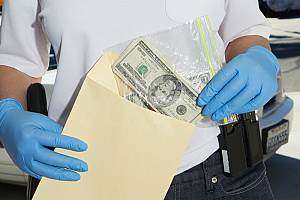 Legislation introduced in California to rein in police use and misuse of asset forfeiture laws in order to take people's money and property (often without ever charging with them with a crime) has seen some significant changes in the Assembly since we've previously reported on it.
A not-small amount of the text of Senate Bill 443 has been removed as opposition by law enforcement agencies and prosecutors has grown. Gone is the requirement that local law enforcement agencies follow some of California's more restrictive forfeiture rules. Police departments in California (and other states) often bypass state regulations by participating in the Department of Justice's "Equitable Sharing" asset forfeiture program. The DOJ version of the program has looser requirements and often lets police departments keep a greater portion of the money than state rules do. Gone is the requirement that a big chunk of the money would go to a state-controlled asset forfeiture fund to manage distribution. These were all ways to try to reduce the "profit motive" for police to try to seize whatever they could on the most specious of justifications by eliminating the amount of money they would be able to keep.
But the most important component of SB 443 remains: Prosecutors will actually have to convict people of crimes before law enforcement agencies will be able to permanently keep cash and assets they seize during arrests, even if they partner with the feds. For that reason, organizations like the asset forfeiture reformers of the Institute for Justice (IJ) continue to support the bill.
The bill had already passed the California Senate (with only one vote of opposition) but is now dealing with some heavy opposition from the law-and-order folks lobbying the Assembly. Their opposition efforts are being bolstered by the federal government officials warning that too many restrictions on asset forfeiture will threaten California's participation in federal sharing programs entirely, potentially causing a loss of tens of millions of dollars in state revenue.
The Institute for Justice this week passed along some communications from opponents trying to scare legislators away from reform. The possibility of losing federal dollars obviously contributed to the decision to eliminate the state-level asset forfeiture fund. The federal rules require that law enforcement agencies maintain their own asset forfeiture funds in order to participate in the federal program. Shifting some of the money back into the state would have run afoul of these rules. That's exactly what happened with New Mexico's reforms, which actively forbid law enforcement agencies from maintaining asset forfeiture funds. A representative from the U.S. Treasury warned that the same thing could happen to California.
But perhaps it's best that the complicated state distribution program was eliminated. Do we need even more state bureaucracy managing things? Such a shift could possibly create just a new set a bad financial incentives rather than eliminate the current ones.
Nevertheless, it turns out just requiring a citizen to be convicted of a crime before the government can keep his or her stuff may be too much for the federal government's liking. The Institute for Justice provided a copy of an e-mail from a Treasury representative sent out last week that warned, "I highly doubt our federal agencies can figure out whether a conviction occurred in a timely manner. I'm not sure they would have the resources, desire, or technical capability. … Accordingly, I think I would still advise our policy officials here that it would be prudent not to share with agencies should this law be passed."
I spoke with Lee McGrath, legislative counsel for the Institute for Justice, this morning, and he helped me navigate through the bill's changes. He found the Treasury's argument illogical. California law already requires that seizures of assets worth less than $25,000 can only be kept if there's a conviction. No doubt this law is one reason why local police bypass state rules and partner with the feds, but McGrath's point is that the idea that it's too hard to keep track of whether or not a person is convicted before taking his or her stuff is absurd.
"We have figured it out in California," he said. "We do it all the time when the seizure is less than $25,000. What's so tough about that? They want to continue the idea that somebody could lose their property without even being charged, never mind being convicted of a crime."
Opponents are nonetheless using the potential loss of revenue in their lobbying efforts, pointing out to legislators how much money their districts have raked in from the federal asset forfeiture program. McGrath describes it (in a release from IJ) as a "desperate and cynical attempt to derail civil forfeiture reform in California."
Voting on the amended bill is scheduled for tomorrow. If it passes it will have to head back to the Senate because of the changes. The version the Senate approved was much stricter than this amended bill, so McGrath predicted it would likely survive if it makes it out of the Assembly.