Witness Video Appears to Contradict Official Version of Fatal Police Shooting of Unarmed California Man
Cops say John Berry tried to hit them with his car before they shot and killed him but family and witnesses disagree.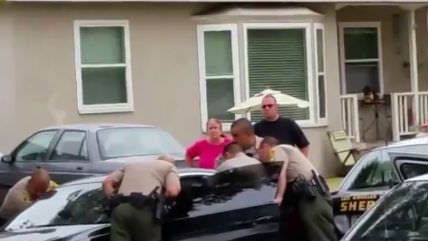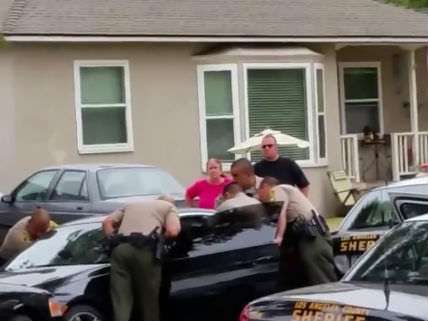 Early last month, deputies from the Los Angeles County shot and killed 31-year-old John Berry, who was drving his car. The authorities said Berry rammed a patrol car and then pinned a cop to another vehicle, and that deputies shot at Berry because they feared for that cop's life.
The Los Angeles Times reports on what led to the incident:
Berry was not himself and appeared to be off his medication July 4 when he showed up at home upset that he had lost his job. He called the police to complain that he wasn't being allowed access to the belongings in his room. When a deputy arrived, Berry gathered some possessions and left the house he shared with his mother, sister, brother and a niece.

Two days later, Berry reappeared at the house, parking his car on the front lawn. His older brother went out to talk to him.

"He was sitting in the driver's seat of his BMW," Chris Berry, 37, recalled. "I could tell he hadn't slept in a while."

Chris Berry, a federal police officer who works at a facility with two psychiatric hospitals, said he called the Lakewood sheriff's station and asked that a mental evaluation team be dispatched. He was informed that deputies would be sent instead.

The deputies who arrived were immediately aggressive and escalated the situation, Chris Berry said. He said he watched as they unleashed pepper spray, shot his brother with a Taser at least four times and struck him with batons. His brother, he recalled, looked stunned and cried, "What did I do wrong?"

"They said he accelerated and crashed into the police car. That did not happen — I was there for the whole thing," Chris Berry said. "But they have to say that because it justifies their aggressive actions.… I believe in my heart and I know Johnny wasn't trying to hurt them."

Chris Berry said that as a law enforcement officer, he is pained to be mixed up in what feels like a family fight. "I called one brother to help another brother and…" He stopped, unable to finish the sentence.
A spokesperson for the sheriff's department insisted the witness video began after Berry rammed into a patrol car. She says the video is in their possession and part of the department's investigation into the incident.The Berry family's attorney, who released the video, denies Berry hit the patrol car, saying the shooting started when a deputy fell down near the cars.
Watch the video below: