Alaskan Escort-Service Owner Amber Batts Gets Five Years Prison for 'Sex Trafficking'
Her so-called crimes? Screening clients and booking appointments for willing adult sex workers.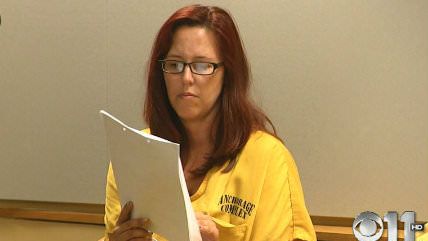 To witness the institutionalization of the idea that all prostitution is indistinguishable from sex trafficking, look no further than the differing treatment of Heidi Fleiss and Amber Batts.
Known as the "Hollywood madam," Fleiss—whose "prostitution ring" bust captivated American media in the 1990s—was portrayed as an opportunistic, savvy, and somewhat glamorous businesswoman who managed a bevy of high-priced Los Angeles "call girls." She was convicted of three counts of "pandering" and sentenced to three years prison time.
Meanwhile Batts, who ran essentially the same sort of service for clients around Alaska, is described as the "operator of a sex trafficking ring," a woman who preyed on innocent "victims." She was recently convicted of one count of felony sex trafficking, for which she will spend five years in prison.
At the blog Tits and Sass, sex worker and activist Tara Burns recently took a comprehensive look at Batts' case. Batts' legal troubles began in 2014, when one of the women working for her escort service, Sensual Alaska, called the police about a stolen purse:
The woman reported that she had lost her purse and she believed her coworker had taken it.  In response, she'd threatened to tell the police about the "prostitution ring" they were involved in, and her coworker had threatened to assault her if she did.  Three months later, officers with the Alaska State Trooper's Special Crimes Investigative Unit decided to follow up… They did so by flying to the town where she was then working independently and booking an escort session with her. "Oh baby," an officer can be heard moaning in a recording of the encounter, "I've never had that before."

Moments later, other members of the Special Crimes Investigative Unit can be heard entering the room and putting the woman in handcuffs.  Under Alaska state law, which has redefined all prostitution as sex trafficking, the woman is a sex trafficking victim.  In the incident report, she is listed as a victim.  She called 911 and reported that she was, by their definition, a sex trafficking victim, and they chose to follow up on that by what sounded like having sexual contact of some sort with her during a prostitution sting operation.

The Special Crimes Investigative Unit, according to an early 2015 status report, is made up of four officers, headed up by Sergeant Mike Ingram. The officer's salaries cost the state of Alaska $578,239 per year.  According to the status report, its "main purpose is to locate and rescue juvenile victims that are being forced to work as prostitutes in the commercial sexual exploitation of children." But according to my extensive research of Alaska state public record, in the almost 18 months of the SCIU's existence, it has failed to arrest anyone for any crimes relating to the exploitation of minors.  Nor have there been any allegations that anyone arrested by the SCIU forced anyone—adult or juvenile—into prostitution.
None of the women who had worked for Batts reported bad experiences, and certainly not that they were forced into the work or exploited. By all accounts, Batts was vigilant about screening clients and treated those working for her well. Batts herself had worked in prostitution previously and launched Sensual Alaska after seeing "that we were giving some guy more than half of our money," she told Burns. "I was like, 'we can do this, we don't need to let some guy do this for us."
Exploitative pimps are the ones Alaskan cops allegedly set out to find during Operation Cross Country, part of the FBI's nationide "Project Innocence Lost." But as is so often the case with these stings, sex workers themselves wound up among the targets. During a June 2014 Operation Cross County sting, the cops arrested another sex worker who had been working for Batts, and she pointed them to several other Sensual Alaska employees, whom cops also tracked down and arrested.
According to the incident report, (one of the women) provided them with the password to her e-mail account, and they found the following e-mail from Batts:
I got your pictures and you're a total doll!  I think you would do very well there … I would love to start booking for you as soon as you would like to start.  I have attached the independent contractor agreement for you to complete and send back.  Please take a moment and look it over – it's just something I have everyone fill out.  If all looks well go ahead and either print it out and initial it OR send me a picture by phone or scan it and send it to me, whatever works easiest …

The woman, like many other victims in the case, may have thought that she was proving to the officers that Batts was not a sex trafficker.  After all, sex trafficking is federally defined as the use of force, fraud, or coercion in the act of recruiting, harboring, transporting, providing, or obtaining a person for commercial sex acts.  But under Alaska state law almost all prostitution is sex trafficking—one woman in Fairbanks was even charged with trafficking herself for placing an ad on Craigslist (sex trafficking in the fourth degree: aiding or facilitating prostitution).  The e-mail and attached contract from Batts were probably enough, on their own, to charge her with several felonies.
In July 2014, police arrested and booked Batts on seven counts of felony sex trafficking. She was in jail for four months before being allowed out on bail with an ankle monitor, for which she paid $600 a month; Batts also had to have a live-in custodian in the house at all times. When her approved custodian left, Batts was charged with violating parole and the court did not approve her replacement custodian, and Batts was sent back to jail. Three months later, she pled guilty to one count of sex trafficking in the second degree.
Last week, a judge sentenced Batts to five years in prison for the sex trafficking charge and 18 months for a parole violation. In addition to the charges against Amber Batts, her husband, Quinn, was charged with one count of felony sex trafficking in the third degree for his role in helping run Sensual Alaska. Seven alleged 'johns' were also charged, with misdemeanor prostitution.
Burns asked Batts what she would say to other sex workers following her orderal. "To not give up," Batts told her, "not give up our rights for safety. That we should always be able to communicate with each other and work together in order to better our work environment."
Update: If you're so inclined, here's a petition created by Burns asking the Alaska legislature to repeal the state's overly broad sex-trafficking law.