Pro-Choice Group Takes Down Story Slut-Shaming Pro-Life Activist
RH Reality Check exposes sexual preferences of opponent because she is anti-Planned Parenthood.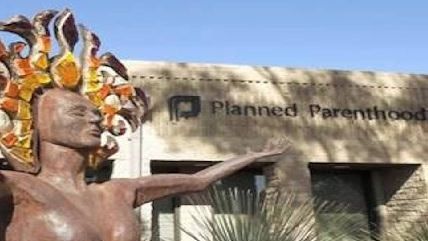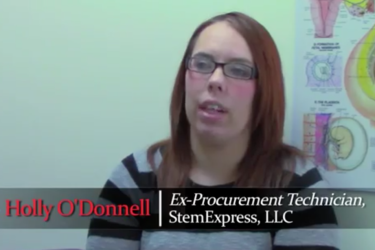 Yesterday, the pro-choice group RH Reality Check posted a story about Holly Kaitlyn O'Donnell, who has emerged as one of "the face of the ongoing series of attack videos against Planned Parenthood and StemExpress, a private company that contracted with Planned Parenthood to facilitate donations of fetal tissue."
The story is amazing as a variety of slut-shaming, or using a woman's private sex life as a way to denigrate or undermine her credibility in public. That it comes from a supposedly feminist, sex-positive site is pretty stunning. So stunning, in fact, that RH Reality Check has pulled the story from its site and scrubbed tweets promoting it.
I'm in favor of legal abortion but find RH Reality Check's story truly disgusting. That the group has simply vanished the story only adds to the problem.
The controversial anti-abortion videos, which continue to be released by a group called The Center for Medical Progress, purport to show Planned Parenthood officials engaged in haggling over prices for fetal tissue and other practices; they also implicate a company called StemExpress, which transports and processes human body parts and tissue. According to FactCheck.org, the edited versions of the videos are misleading, especially in implying that Planned Parenthood is breaking laws about trafficking in human products for profit. "It remains legal to donate tissue from a legally aborted fetus, and for that tissue to be used for research purposes," notes FactCheck, and to recoup expenses associated with the maintenance and transportation of the material. "Few studies of costs associated with fetal tissue acquisition are available, existing evidence does suggest the prices named in the video are in line with general practices."
The most recent, released this week, has been widely posted around pro-life sites with headlines such as "7th Shocking Video Catches Planned Parenthood Harvesting Brain of Aborted Baby Who Was Still Alive." The videos have proven effective in generating not simply press about Planned Parenthood but legislative action, with at least 13 states moving to investigate and five states to defund Planned Parenthood, which receives tax dollars for providing certain medical services and contraception for women. Virtually all announced candidates for the Republican presidential nomination have also called for defunding or shutting down Planned Parenthood as a result of the videos as well.
Go here for Reason's coverage of the videos.
So what did RH Reality Check's story about Holly Kaitlyn O'Donnell expose? Among other things, that O'Donnell?
RH Reality Check identified O'Donnell's accounts on the dating site OkCupid, and using the same handle, her account on the photo-sharing site, Instagram. We also identified her account on FetLife.com (which appears to be short for "fetish life"), a site that provides the "easiest ways to find new kinky friends."…

O'Donnell is vocally in favor of same-sex rights and describes herself as "heteroflexible" and looking for a "Mistress."'…

Her accounts contain images of Hitler, include posts indicating eugenicist sympathies, references to abortion that are most accurately described as ambivalent, as well as considerable sexually explicit material….

one views O'Donnell's sexual preferences, when it comes to her Instagram account, certain posts are more difficult to defend.

In particular, O'Donnell displays a recurring interest in Hitler and Nazi-themed photographs.

One image shows the ripped abs of a male fashion model, nipples and navel visible above his jeans. However, the model's head has been photoshopped, and replaced with the recognizable face of Hitler. The caption reads, simply, "Adolf, 20."
Why is any of this relevant to the discusion of abortion, reproductive rights, or sexual freedom? The short answer is that it isn't, but it sure is salacious, isn't it?
Here's RH Reality Check's argument:
While there is nothing wrong or shameful about an adult's consensual sexual preferences or practices, the fact remains that O'Donnell is an unusual choice as the face of a campaign that has so far only otherwise been represented by the buttoned-up [activist David] Daleiden, who has carved a career as a conservative Catholic anti-choice activist, and whose allies oppose LGBT equality and speak in terms of moral absolutism when it comes to the sex lives of other consenting adults, especially women.

O'Donnell too has demonstrated a willingness to judge and condemn others, and to assume that she knows the motivations of Planned Parenthood providers with whom she worked and countless women who have had abortions, in some cases, donating the resultant tissue to medical research. Her sexual practices would not themselves be of note, but for her decision to step forward as a moral arbiter of the private decisions of others.
Beyond exposing O'Donnell's sexual proclivities, RH Reality Check dilates on her apparent heterodox views on abortion as well, the better to…er, what exactly is not clear:
"I don't believe in abortion," she said on the Splintered Caucus podcast, but added, "It's every woman's choice. That's your opinion. But mine, I'm pro-life…."I don't think I have any authority to outright say, 'Oh yeah, shut down Planned Parenthood,' because they do good for women," O'Donnell said. "At the same time, how many low-cost clinics in the USA do good for women, as well?"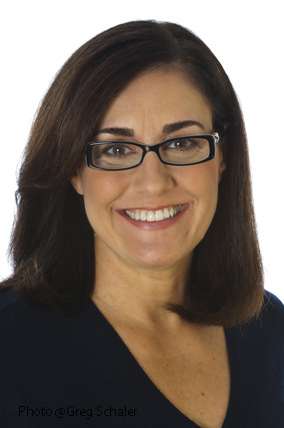 Read the full story in a cached version here.
Last night, the editor in chief of RH Reality Check , Jodi Jacobson, touted the disappeared story with this tweet:
Anti-choicers hate sex, except when its 4 them. Face of @PPact attack video seeks sexual freedom on OKCupid & FetLife http://t.co/xnOjAPGYZ9
— Jodi Jacobson (@jljacobson) August 20, 2015
In fact, based on the "facts" divulged from her social media and dating-site accounts, O'Donnell doesn't seem to have a problem with sexual freedom. Indeed, she seems to be an avid participant in it.
She is apparently against abortion—just like Margaret Sanger, who is often misrepresented as the "founder" of Planned Parenthood by anti-abortion activists (click on the link to hear Sanger biographer Peter Bagge further explain Sanger's views on race and eugenics, too, which are also often misrepresented). Sexual freedom and belief in abortion are two separate things.
As someone who is pro-choice, I find the willing conflation by Jacobson and crew truly toxic and shameful. As is the unwillingness to either stand by a despicable piece or to acknowledge ad explain why it was pulled.
Debates over sexual freedom, autonomy, and abortion are rarely burdened by nuance on either side. But RH Reality Check has done nobody any favors by engaging in slut-shaming that it would rightly condemn in any other circumstance.