Judge Rejects Cops' Argument That Their Behavior During a Medical Marijuana Raid Is a Private Matter
Santa Ana officers tried to suppress a video that seems to show them sampling a dispensary's wares.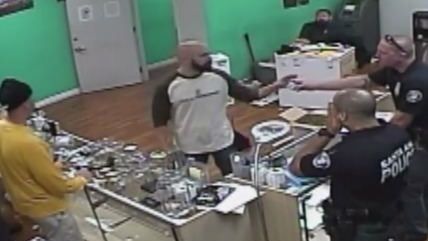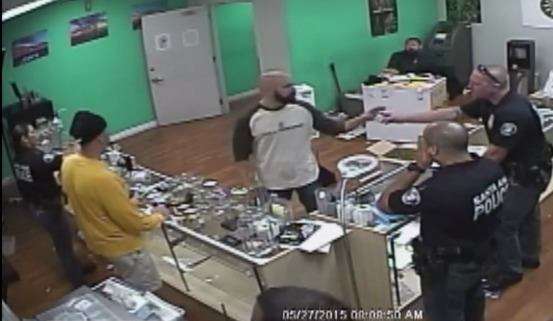 It was pretty embarrassing when Santa Ana cops raiding a medical marijuana dispensary were caught on video making fun of an amputee, playing darts, and (apparently) eating cannabis-infused chocolate bars. It was even more embarrassing when they argued that the Santa Ana Police Department should not be allowed to use the video in its investigation of the incident because they never agreed to be recorded. This week an Orange County judge slapped down that chutzpadik claim, saying the officers "should not expect privacy in their on-duty performance of an official function at a marijuana dispensary."
The three unnamed officers who are under investigation said they thought they had disabled all the surveillance cameras at Sky High Holistic and were therefore free to let it all hang out. They noted that California law says "all parties to a confidential communication" must consent to being recorded, and they never gave their consent.
But that rule does not apply when "the parties to the communication may reasonably expect that the communication may be overheard or recorded." And according to Orange County Superior Court Judge Ronald L. Bauer, the cops "had no objectively reasonable expectation that their words and actions would not be observed" while performing their official duties in a business they had just raided. Bauer noted that "they have made no claim that their work required secrecy or that it would be impeded by public review."