Tumult in Greece: Tsipras to Resign, Call For Snap Elections
The Greek prime minister is skipping the confidence vote in parliament and going straight to the people.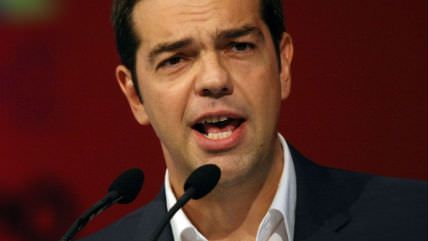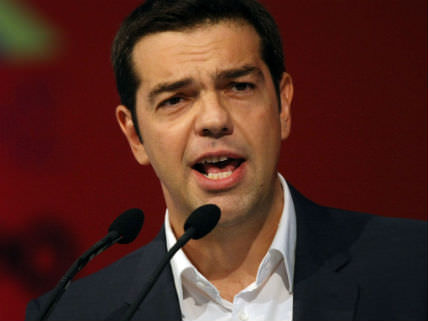 The embattled prime minister of Greece, Alexis Tsipras, will not call for a confidence vote as he was widely expected to do.
Instead, he's resigning his position and calling for a snap election, to be held on September 20, in which he hopes to piece together a new governing coalition, according to The Guardian. This is necessary because about a third of the parliament members from his own party abandoned him after he agreed to a bailout deal with Greece's troika of international creditors.
Tsipras probably would not be able to get enough votes in that body to maintain his leadership role, meaning he would have had to dissolve the government regardless. So he's skipping the intermediary step, "deciding instead to go straight to the country in an attempt to silence rebels and shore up public support for the draconian three-year bailout programme, which entails a radical overhaul of the Greek economy," per the Guardian piece.
Until a new coalition can be formed, the president of Greece's supreme court, Vassiliki Thanou-Christophilou, will head up a "caretaker" government and oversee the elections. She will be the first female prime minister of the Mediterranean country.
All is not necessarily lost for Tsipras despite appearances. As I wrote yesterday:
If there's a silver lining to the situation from Tsipras' perspective, it's that he remains broadly popular among voters. Twice this year already the Greek people have rallied to the polls to support him—first in January when he was initially elected and again last month after he called a surprise referendum over whether or not to agree to the troika's demands.

Of course, voters came out strongly against the terms and then Tsipras proceeded to agree to an even less favorable deal. So his future really does seem to hinge on how recalcitrant the electorate will be feeling come September.
You'll notice he's trying to get the election over with as quickly as possible—perhaps because he fears the political fallout that will come from implementing the austerity measures demanded by the international community in exchange for the new financial bailout. Both Tsipras and the Greek people have long blamed their country's economic woes on the dramatic reductions in government spending its creditors have required it to make.
Meanwhile, some economists I spoke to in July suggest the real reason unemployment in Greece is such a problem is that no one—least of all Tsipras—is willing to go through with the labor market reforms that would be needed to get the country growing again. And last month Reason TV sat down with Peter Schiff to talk about whether the U.S. is headed the same way.