Michigan Prosecutors Drop Case Against Medical Marijuana Patient and Agree to Return Her Stuff
The county kept Ginnifer Hency's property even after the charge against her was dismissed.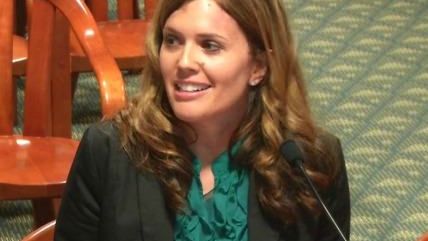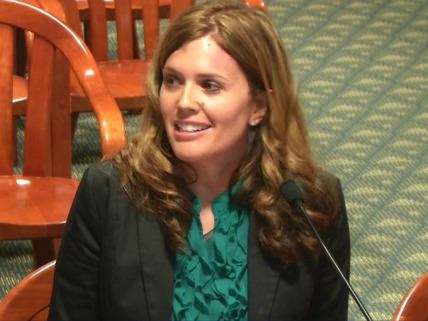 Last May, Ginnifer Hency, a Michigan medical marijuana patient and caregiver, told state legislators about the July 2014 raid in which cops from the St. Clair County Drug Task Force came to her house and "took everything," including a car, TV sets, ladders, her children's cellphones and iPads, and even her vibrator. A marijuana charge against Hency was dismissed because she was complying with state law. But prosecutors were still seeking to keep her family's property through civil forfeiture. Last Wednesday, when prosecutors were expected to argue at a hearing before Circuit Judge Michael West that the marijuana charge should be reinstated, Hency learned that they had instead decided to drop the case. They also told her the seized property would be returned.
The search of Hency's home followed a raid on a medical marijuana clinic during which police found six ounces of marijuana in her backpack—well within the 15-ounce legal limit for her and the five patients she assists. Police arrested Hency for possession with intent to deliver, she says, "but I'm allowed to possess, and I'm allowed to deliver." During the search of her house, police seized plants that she and her husband, who is also a registered patient and caregiver, were growing in separate, locked rooms, as required by state law. Police never charged Hency's husband, and they never charged her with manufacturing marijuana. But after a judge dismissed the possession charge, prosecutors appealed that decision. And when Hency asked about getting her property back, she says, a prosecutor told her, "I can still beat you in civil court. I can still take your stuff."
Last week, however, prosecutors said they were dropping the criminal and civil cases "in the interest of justice." They cited a July 27 ruling by the Michigan Supreme Court that applied Section 4 of the Michigan Medical Marihuana Act, which says qualifying patients and caregivers "shall not be subject to arrest, prosecution, or penalty" for producing, possessing, or distributing marijuana in compliance with the law. The court said a patient or caregiver seeking immunity is entitled to a pretrial hearing at which he must prove, "by a preponderance of the evidence," that he "possessed a valid registry identification card," complied with the law's quantity limits, "kept any marijuana plants in an enclosed, locked facility," and was using or providing marijuana for medical puposes. It noted that "a defendant is presumed to be engaged in the medical use of marijuana if the defendant possesses a valid registry identification card and is not in violation of the volume limitations."
Since Hency met those requirements, she qualified for immunity. Then again, that much should have been clear to prosecutors even before this decision. Although the statute does not specifically mention a pretrial hearing or the standard of evidence to be used, its conditions for immunity are straightforward, and immunity requires that the determination be made prior to trial. Under the recent ruling, St. Clair County Prosecutor Michael Wendling told the Detroit Free Press, "We would have to have specific evidence on those items in order to overcome that burden now that we did not have to show before." But the presumption of medical use based on registration and compliance with the quantity limits was not invented by the Michigan Supreme Court; it is specified by the statute.
Hency, who uses marijuana to relieve pain related to multiple sclerosis, says she never understood the rationale for accusing her of breaking the law. She suggests prosecutors "are looking for a way to save face" following the negative publicity generated by cases like hers. She hopes their new position will lead them to reconsider other cases involving medical marijuana patients and caregivers. Wendling said his office is re-examining 18 or so cases in light of the Michigan Supreme Court's decision. Hency says residents of St. Clair County are hardly clamoring for a crackdown on medical marijuana users, which she thinks has been driven mainly by a desire for easy forfeiture booty.
Charmie Gholson of Michigan Moms United, who also testified at last May's hearing, thinks "Gin's courage to go public and speak the truth" explains the reversal. "Drug task forces can count on the people they violate to remain quiet due to both the threat of returning—they are armed and masked and terrifying—and the threat of pending charges," Gholson says. "I've been interviewing SWAT survivors since 2010, and trust me, these people all want others to know what's happening to them, but they are too terrified to speak out."