Feds Wrong About Breakfast, State of Emergency in Ferguson, New Star Wars Trailer: P.M. Links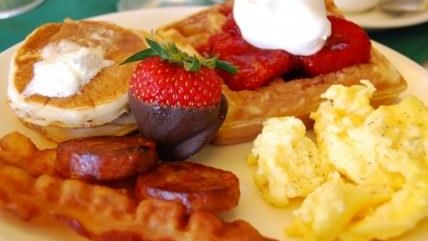 (ninacoco / photo on flickr)
Credit: ninacoco / photo on flickr

Today in "The government shouldn't be telling us how to eat": The belief that skipping breakfast causes people to gain weight, something in federal dietary guidelines, may be a bunch of hooey.

A new state of emergency has been declared in Freguson, Missouri, over unrest there.
Those Virginia alcohol agents who were involved in the bloody arrest of college student Martese Johnson outside a bar are back on the job. The Alcohol Beverage Control Department said the agents did nothing wrong.
Sen. Marco Rubio (R-Fla.) and former Republican Florida Gov. Jeb Bush did not have kind responses to Hillary Clinton's college funding proposal, calling it a tax hike.
How far are the other Republican candidates for president distancing themselves from Donald Trump?
Democratic Pennsylvania Attorney General Kathleen Kane will publicly discuss the criminal charges against her (leaking grand jury information) at a press conference Wednesday.
Ever wonder what the Star Wars logo looks like in Korean? Turns out they released a new trailer for the upcoming movie overseas.
New at Reason
Follow us on Facebook and Twitter, and don't forget to sign up for Reason's daily updates for more content.