The Cruel, Petty Sentencing Practices of Judge Dennis Wiley
The guidelines were always too lenient.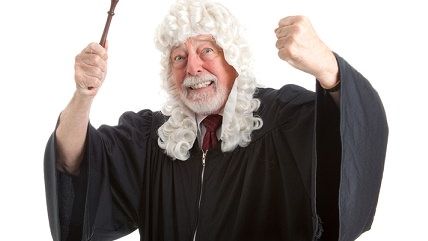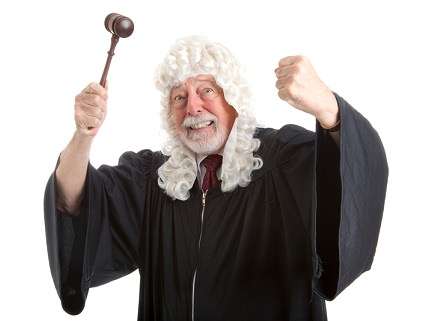 Dennis Wiley is a district judge in Berrien County, Michigan. As you may have seen here, here, and even here, Wiley recently sentenced 19-year-old Zach Anderson to 90 days in jail and 25 years on the Sex Offender Registry. Anderson, a computer science student, was also banned from internet and smartphone. Wiley imposed this punishment even after Anderson's victim—a 14-year-old who claimed to be 17 during a sexual encounter—and her mother asked the prosecutor's office to drop the charges entirely.
During Anderson's sentencing hearing, Wiley told him: "You went online…trolling for women to meet and have sex with. That seems to be part of our culture now: meet, hook up, have sex, sayonara. Totally inappropriate behavior. There is no excuse for this, whatsoever."
The Anderson case was not Wiley's first foray into scolding online daters. Wiley recently put another Indiana 19-year-old, Darian Yoder, on the sex offender registry for having consensual sex with a 13-year-old who also claimed to be of age. They met via the same "Hot or Not" app that Anderson used.
Yes, these teenagers went online to meet women. People do that in 2015. Wiley chose to make an example out of Anderson and Yoder because of his own moral qualms with modernity.
Unfortunately, these are just the most recent examples in a long line of cases where Wiley exercised his discretion in a manner that was especially harsh toward low-level offenders.
In April 2014, Wiley was censured for misconduct after he had LaRue Ford charged with contempt. Ford spent 10 nights in jail—including Christmas—after not paying $5,000 in bond. Her crime? Muttering "fuck this shit" while in the courthouse dealing with a traffic ticket. The courthouse staff that overheard Ford mentioned it to Wiley, who then took matters into his own hands.
Curtis Pedzinski, a 21-year-old native of St. Joseph, Michiga, was sentenced by Wiley to between 14 months and 2 years in prison for "unlawful use of a motor vehicle," or joyriding. Years earlier, Pedzinski had been convicted of breaking and entering. Wiley's sentence was significantly more severe than what state guidelines called; Wiley justified it by claiming that proper weight had not been given to Pedzinski's past.
There was also the case of Reverend Edward Pinkney, a high-profile black leader from Benton Harbor. Benton Harbor, along with St. Joseph, are Berrien County's twin cities. Benton Harbor is about 90 percent black, while St. Joseph, the county seat, is about 85 percent white. The area has experienced a lot of racial tension over a long period of time, and Pinkney has been deeply involved for years, rubbing a lot of powerful people the wrong way. Alfred Butzbaugh, a Berrien County judge who had presided over an election fraud case involving Pinkney was the target of Pinkney's fondness for bombastic language in an article written for a Chicago paper. In addition to calling Butzbaugh "corrupt," "dumb," and a racist, Pinkney wrote:
"Judge Butzbaugh, it shall come to pass…..that all these Curses shall come upon you and your family, curses shalt be in the City of St. Joseph and Cursed shalt thou be in the field, cursed shall come upon you and your family and overtake thee…..The Lord shall smite thee with consumption and with a fever and with an inflammation and with extreme burning. They the demons shall Pursue thee until thou persist."
This threat, according to Wiley, was a violation of Pinkney's probation, saying that Pinkney's title of Reverend gave him a "direct line to the Lord" and that a reasonable person would find this to be a serious threat. Wiley sentenced him to 3-10 years in prison because of the threat's supposed severity. Pinkney went to prison in June 2008 and remained there until his sentence was thrown out on appeal.
Another defendant, Arthur Grice, was also a victim of Wiley's overboard sentencing practices. In 2010, the Michigan Court of Appeals ruled that the sentencing guideline variables were wrongly scored by Wiley in Grice's trial for resisting arrest. The Court of Appeals found that every variable in the case against Grice was scored significantly higher than it should have been, leading to a more harsh sentence of between 46 months and 15 years in prison.
While sentencing guidelines aren't set in stone, Michigan law says that departures are allowed "if the court has a substantial and compelling reason for that departure and states on the record the reasons for departure." Judges can't go outside the guidelines based on race, gender, nationality, appearance, etc.
But it seems like Wiley thinks he knows better than the sentencing guidelines—which he believes are almost always too lenient, no matter the severity of the crime.