Look Who's Defending Donald Trump
The enemy of the media is many conservatives' friend. Particularly those in the media.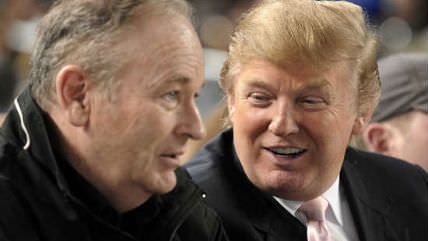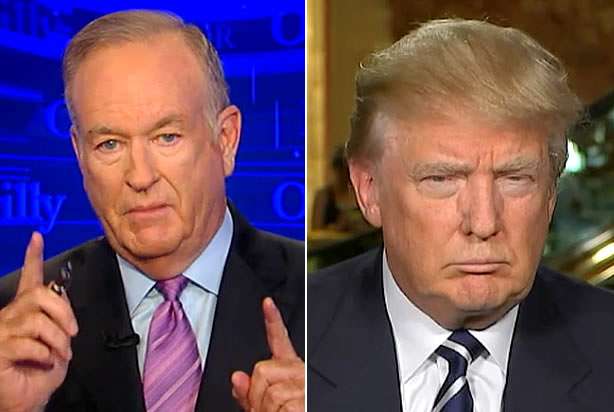 On Monday, Fox News host Bill O'Reilly gave Donald Trump an appropriately challenging interview about the latter's controversial comments about John McCain's war-heroism. On Tuesday, however, O'Reilly became the latest conservative-media personality to rise to the Donald's qualified defense, in the form of an attack on the political press. You can watch the video at Mediaite; here's the full transcript of O'Reilly's "Tip of the Day"t:
The media [is] despising Donald Trump, and here's why: He has no fear, he could not care less about censoring himself, and the press does not intimidate him. So because of that approach, the media believe that they must punish Mr. Trump, for being disrespectful and not cowering before them. Plus they don't like his politics, generally speaking.

[The] press [is] a very powerful force in America; given special privilege by the Founding Fathers, and if the press deems someone unworthy, they will try to destroy that person. That's where Donald Trump finds himself today.

Factor Tip of the Day: Unfortunately the American media, although there are exceptions, are not looking out for you [points at camera]. They have an agenda, these people, and they often use that agenda in corrupt ways [wags finger]. You as a media consumer should walk away when you see that happen.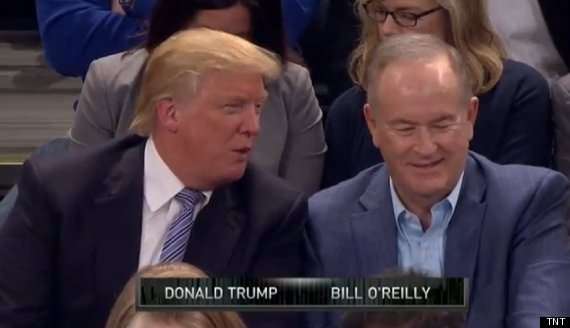 This passage, I think, explains a lot about modern conservatism, about Trump's poll numbers (in both directions: leading the pack and drawing the highest unfavorables), and about how anti-media sentiment overrides so many other values, even/especially among the conservative media establishment itself.
The biggest applause lines in Trump's July 11 speech at FreedomFest were not the anguished anecdotes about illegal-immigrant criminality, or the blingy braggadocio about his wealth and success, but the repeated attacks on the media. (Typically for the billionaire, these attacks were shot through with hyperbole and inaccuracy, such as his claim to have attracted the biggest crowd at the conference, and his complaint that journalists only publish "half-sentences" of such Trump-nuggets as "The American dream is dead," the second half of which you can read in plenty of other places.) This receptivity to media-bashing is squarely in keeping in what I observed at this year's Conservative Political Action Conference—the biggest crowdpleasing moments, from Ted Cruz to Carly Fiorina to Jeb Bush to Sean Hannity, were digs at the perfidy of the press.
Like all great feedback loops, the hate-hate relationship between Republicans and the media contains usable truth on both sides. Conservatives are right that the media leans overwhelmingly left, and that it portrays them unfairly, sometimes with barely concealed loathing. And journalists are correct to point out that the temporal figureheads of the populist, anti-media right—Donald Trump today, Herman Cain yesterday, Sarah Palin the day before that—say and believe and occasionally do a lot of seriously goofy things. Perhaps most importantly of all, the rest of America is right to treat the media, the political establishment, and the Republican Party with escalating disdain. Journalistic fascination with conservative caricatures can drive entire news cycles far away from any critique of actual power. Many segments of the press were treating Obamacare-related comments from the out-of-work Palin more seriously than those by the sitting president as recently as 2011.
The three great waves of conservative-media creation—talk radio, Fox News, and post-9/11 websites—were each fueled by a visceral resentment toward being surrounded on all sides by a hostile media establishment. Once a new technology opens up, pissed-off conservatives like Andrew Breitbart come gushing through. So it's no accident that the long-running kings of each medium (Rush Limbaugh, Bill O'Reilly, and Matt Drudge) have provided among the most sympathetic venues for Donald Trump, for the same reason that Ben Carson and Ted Cruz have been the most reticent in the GOP presidential field to pile on. All of them rely on animus toward the media and establishment, no matter how establishmentarian in their own way each has become. Rush Limbaugh's discussion of the Trump/McCain feud earlier this week included the word "media" 20 times.
By judging that the enemy of their enemy might well be a friend, the conservative anti-establishment Establishment has been taking some lumps from other right-of-center commentators (start here and here and here, and work back from the links). It's hard not to see why. Aside from his sins against libertarianism and basic comportment, Trump makes for a pretty lousy Republican. And his persistent untethering from the truth makes a mockery of the claim that the conservative-media corrective is particularly concerned with being correct.
As I concluded this 2004 column about the tension within conservative media,
"Because you ignored us," Breitbart says, "because you ignored Rush and Drudge and God knows who else, we decided to go out and create our media. And I think that what we're doing is building up something that may be bigger and better."

Bigger, probably. Better, arguably. More factual…we'll see.