Obama Holds the Key For Imprisoned Drug Offenders
The president can do much more to correct unjust sentences, but time is running out.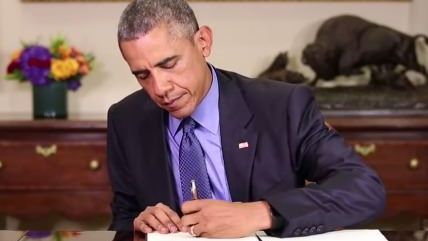 In 2006 Telisha Watkins helped connect a neighbor in New York City with a cocaine dealer in North Carolina. The neighbor, who turned out to be a confidential informant, had said he was interested in buying 18 ounces of cocaine. Watkins was ultimately charged with participating in a conspiracy involving 285 grams of crack as well as 428 grams of cocaine powder, based on the package her acquaintance in North Carolina delivered and the contents of his van. Because of the crack and three prior convictions for drug possession, Watkins received a 20-year mandatory minimum sentence in 2007, when she was 33.
Thanks to President Obama, Watkins will go free in November, more than nine years before her expected release date. She is one of 46 federal prisoners whose sentences, ranging from 14 years to life, were commuted last Monday. All of them are nonviolent drug offenders, three-quarters of whom were convicted of crack offenses at a time when penalties were substantially more severe than they are now. There are thousands more like them in federal prisons, and Obama has the power to free them all. Whether he will use that power remains to be seen, and time is running out.
"In far too many cases, the punishment simply does not fit the crime," Obama said in a speech at the NAACP's convention in Philadelphia last Tuesday. "If you're a low-level drug dealer…you owe some debt to society. You have to be held accountable and make amends. But you don't owe 20 years. You don't owe a life sentence. That's disproportionate."
Obama said he is using his clemency power to ameliorate such injustices. "I've commuted the sentences of dozens of people sentenced under old drug laws that we now recognize were unfair," he said, "and yesterday I announced that I'm commuting dozens more."
That may sound like a lot, and it is, compared to Obama's record until recently. Although Obama has been criticizing our excessively harsh criminal justice system since his days as a state legislator in Illinois, he granted just one commutation in his first term as president, followed by eight in December 2013, one in April 2014, 11 in December 2014, and 22 last March. Last week's batch more than doubled his total. To put it another way, Obama shortened more sentences on Monday than he did in the first 2,364 days of his administration.
"The President has taken pretty bold action when it comes to commutations," White House Press Secretary Josh Earnest told reporters. Earnest noted that Obama's current total, 89, is "more than the number of commutations issued by the four previous presidents combined."
That much is true. "It's a whopping one more," says clemency expert P.S. Ruckman Jr., a professor of political science at Rock Valley College in Rockford, Illinois. Ruckman adds that "Obama has received more applications than those four presidents." Taking that into account, Obama's commutation approval rate at this point is slightly lower than the combined rate for Ronald Reagan, George H.W. Bush, Bill Clinton, and George W. Bush: 0.52 percent vs. 0.55 percent. Furthermore, Ruckman says, "His benchmark is four of the stingiest presidents in history."
Despite his new interest in commutations, Obama's clemency record so far (including pardons, which clear people's records) makes him "the ninth least merciful president in U.S. history," per Ruckman's calculations. "He has not been bold," Ruckman concludes. Earnest "seemed to want to brag that Obama has really accomplished a lot with 89 commutations, and my heart just sank. If 'hope and change' means we're going to do just a little better than all the horrible presidents before us, that's disheartening."
There is still time, of course. But with just 18 months left in the Obama administration, the president will have to pick up his pace if he hopes to deliver the "hundreds, perhaps thousands" of commutations predicted by an unnamed "senior administration official" last year. Ruckman worries that a "last-minute splurge" like the one that generated so much controversy at the end of the Clinton administration will unfairly taint deserving recipients and discourage future presidents from using the clemency power. "Ideally, he would drop several dozen every week from now until the end of the term," he says. "A steady trickle is the way to do it. That's the way it was done throughout most of American history."
It's not clear that the Justice Department's Office of the Pardon Attorney, which recommends clemency applicants to the president, is up to the task. Last year, when then-Deputy Attorney General James Cole publicly solicited help from the legal community in locating suitable candidates for commutation, the administration already had received 9,000 or so petitions. Since then, the total has grown to more than 17,000. Meanwhile, Clemency Project 2014, a consortium of nonprofit organizations formed in response to the administration's plea for help, has been contacted by more than 30,000 prisoners but has sent the Justice Department only 50 or so applications, eight of which have been granted.
Part of the problem is the new commutation criteria that Cole announced in April 2014. Cole said the Justice Department would give special attention to petitions from "non-violent, low-level offenders" who have served at least 10 years of a sentence that probably would have been shorter under current law, "do not have a significant criminal history," have "demonstrated good conduct in prison," and have no "significant ties to large-scale criminal organizations, gangs or cartels." Those requirements seem needlessly demanding. If someone got 10 years in prison for an offense that would be punishable by five years today, it hardly makes sense that he has to complete his term before he is eligible for commutation. And if the point is to correct punishments that do not fit the crime, why should prior convictions, gang ties, or misbehavior behind bars matter?
"It is an exceedingly narrow set of criteria," says Sam Morison, a lawyer specializing in clemency who worked in the Office of the Pardon Attorney for 13 years during the Clinton and George W. Bush administrations. Even so, he says, "they should have no problem finding cases if they are really serious about it." Morison worries that even if Obama sincerely wants to make up for lost time, he will face "pushback" from the Justice Department. "In my experience, it was not a lack of manpower" that blocked commutations, he says. "It was a lack of political will. The Justice Department wasn't going to do it."
Bush received about 8,500 commutation petitions, only six of which the DOJ thought were worthy of consideration. "No reasonable person believes that," Morison says, but the Justice Department was "effectively in control of this process" because the president "only knows what DOJ tells him." He recalls that Clinton and Bush both "complained that the Justice Department was being too strict and needed to lighten up," but "the department just wouldn't cooperate." As evidence that such resistance remains a problem, Morison cites a recent New York Times report that White House Counsel Neil Eggleston "told the department not to interpret guidelines too narrowly because it is up to the president to decide."
Earnest promises that Obama will use "executive authority to try to correct as many injustices as possible," while urging Congress to "enact the kind of reforms that the president can't by acting on his own." But Obama can do a lot more than he has done so far, and his unused power will be especially important if Congress fails to pass significant sentencing reforms this year. "The president could largely fix this in an afternoon," says Morrison, by issuing an "amnesty proclamation" that retroactively applies the lighter crack penalties that Congress approved in 2010, commuting sentences that would be shorter under current law. Families Against Mandatory Minimums says that change alone could help something like 8,800 prisoners.
Such a mass commutation surely would raise howls of protest from Republicans, some of whom have argued that Obama already is using his clemency power improperly. "We are deeply concerned that the President continues to use his pardon power to benefit specific classes of offenders," wrote House Judiciary Committee Chairman Bob Goodlatte (R-Pa.) and 18 other members of the committee in aletter to Attorney General Loretta Lynch on Tuesday. "The fact that the Department's clemency initiative is focused solely on federal drug offenders continues this Administration's plainly unconstitutional practice of picking and choosing which laws to enforce and which to change."
Ruckman says such criticism is unfounded. "The laws have been changed by Congress," he says. "If Congress does not want to apply the changes retroactively, that's fine, but that's what the pardon power is for. Presidents throughout history have done that. In their clemency orders, they've written, 'This person was sentenced under this law, and it's no longer the law.' It's a great American tradition." As for Goodlatte et al.'s claim that Obama is breaking new ground by using clemency "to benefit specific classes of offenders," Ruckman says, "nothing could be more stupid." On his blog devoted to the clemency power, he lists 35 examples of "blanket pardons" (a.k.a. amnesties) by presidents ranging from George Washington to Jimmy Carter.
"Constitutionally, Obama could do that," Ruckman says. "There's no doubt about it." Still, he says, Obama is needlessly courting controversy by concentrating commutations at the end of his presidency. "I don't know that any president has ever said so much and done so little with respect to the pardon power," Ruckman says. "Why did they have to wait six and a half years? That's beyond me. It's a presidential power; the buck stops with the president. At this point, you just have to come clean: This was not a high priority."
Obama's lack of interest in using his presidential power to free people who by his own account do not belong in prison has been especially striking because throughout his political career he has been hitting the themes he laid out in his NAACP speech: that our criminal justice system locks up too many people for too long and that mass incarceration has been especially devastating in African-American communities. He surely is right that he cannot solve this problem on his own. But having acknowledged it, he is morally obligated to do what he can.
Last Thursday, Obama is visited the El Reno Federal Correctional Institution in Oklahoma as part of his new push for criminal justice reform. It was the first time a sitting U.S. president has seen the inside of a federal prison. "Visiting the prison is a stroke of genius," Ruckman says. "What a great tradition it would be if every president did that." At the same time, he adds, "prisoners' hopes are so high, what a tragic thing it would be if he leaves office after dumping just a few dozen or a couple hundred commutations. What a tragic thing, to be a person sitting in prison who wouldn't even be in prison if he were sentenced under current law, and the president is doing all this talk, but not much happens."
This article originally appeared at Forbes.com.