Judge Orders Kids to Spend Years in Juvenile Hall for Skipping Lunch with Dad
Court punishes kids for parents' messy divorce.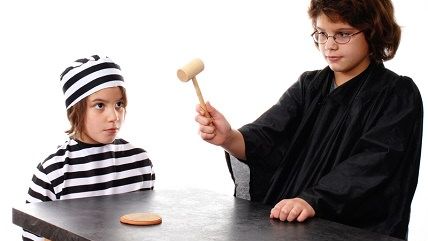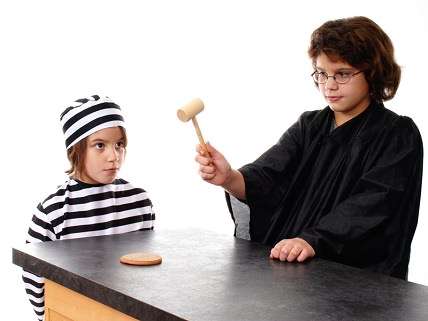 A Michigan judge ordered three children—ages 14, 10, and 9—to be held in a juvenile detention center because they refused to have lunch with their father.
The outcome is part of a custody dispute between the kids' parents, Maya and Omer Tsimhoni, who are divorced. Omer claims Maya poisoned the children against him for spite, while the kids say they don't want to spend time with their father because they saw him hit their mother, according to myfoxdetroit.com.
During a hearing on June 24, Oakland County Circuit Court Judge Lisa Gorcya ordered the kids to spend quality time with Omer. When 14-year-old Liam refused, Gorcya launched into a tirade about how there are consequences for defying a court order:
I ordered you – I will say this again, and apparently you're – you're supposed to have a high IQ, which I am doubting right now because of the way you act, you're very defiant, you have no manners, I ordered you to have a relationship with your dadder – your dad. I ordered you to talk to your father …
Gorcya also tried to intimidate the kids into changing their minds, asking them if they liked going to the bathroom in front of other people and sleep on uncomfortable mattresses—the fate awaiting them at Children's Village, the juvenile hall.
All three have now been there since the hearing. No one is allowed to visit them except their father, but he left for Israel the day after the hearing and has not been back since. The kids are not allowed to see their mother, or each other.
The Observer published a more sympathetic portrayal of Omer, who claims he never hurt Maya—and the police agreed with him when they responded to the incident in question. Maya has brainwashed the kids into thinking he is a bad father, even though he wants nothing more than to spend time with them. Omer remarried after the divorce—which stemmed from Maya's decision to leave—and has a 2-year-old with his new wife.
But regardless of which parent is at fault for the deterioration of this family, it's wrong to blame the kids. To that end, Gorcya's actions seem incredibly harsh and unfair to the confused minors caught in the middle of this dispute.
If the kids remain steadfast in their refusal to see their father, they could stay in juvenile hall until they each turn 18.
What's wrong with these Michigan judges?